Washington, D.C. got a measly 3.4 inches of snow all last winter. In winter 2017-2018, Storm Team4 is predicting a lot more: 11 to 19 inches.
"If you're one of those people hoping for more snow this year, I think you're in luck," Storm Team4 Chief Meteorologist Doug Kammerer said.
Kammerer's winter weather forecast foresees a colder, snowier winter than we had last winter. He expects we'll get:
11 to 19 inches in the D.C. metro region,
7 to 12 inches south and east of D.C.,
16 to 26 inches west of D.C. and
30 or more inches even further west
Average snowfall in D.C. is about 15 inches, with Washington Dulles International Airport getting about 22 inches.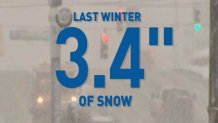 Storm Team4 expects this winter will be warmer than average overall, but we will see some serious cold, too. Kammerer expects:
Local
Washington, D.C., Maryland and Virginia local news, events and information
December to be close to average,
January to be deeply cold the first half of the month,
February to be just below average and
March to be well above average.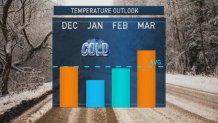 Kammerer said a number of factors came into play as he made the forecast. The first factor is whether or not the Pacific Ocean is in an El Lino or La Nina phase. This year, we are in a weak La Nina, meaning waters in the Pacific are cooler. This has a large impact on weather around the globe and normally gives us average or above average winter temperatures and slightly below normal snowfall.
But there are other factors at work as well. Kammerer looked at the amount of snow in Siberia in October. The snow cover was above average, which normally helps produce colder temperatures and the possibility of more snow in the winter months.
Looking at these factors, extreme weather has previously followed those same conditions. This happened in 1995 to 1996, for example. So we could get a big one!