More than six months after a Democratic National Committee staffer was shot to death in Northwest D.C., billboards and advertisements are set to go up throughout the District in the hopes of finding his killer.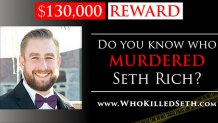 Seth Rich, 27, was shot multiple times in the 2100 block of Flagler Place on July 10, 2016.
A $130,000 reward is being offered for information that leads to an arrest, including $105,000 offered by Republican lobbyist Jack Burkman.
Burkman, who is working with the Rich family, is responsible for the campaign, according to a spokesperson with The Publicity Agency, which is handling the website and advertising artwork.
The billboards and bus shelter ads will advtertise the reward and direct people to go to WhoKilledSeth.com, the spokesperson said. Billboards will go up around Bloomingdale, where Rich died, and other parts of the city.
Investigators have said they don't have any evidence suggesting the slaying is connected to the victim's work at the DNC. Attempted robbery has been cited as a possible motive.
Local
Washington, D.C., Maryland and Virginia local news, events and information
In November, Rich's parents pleaded for people to come forward and offer any clues that may help police.
"You have two people who shot my son twice in the back," said Rich's mother, Mary Rich. "We're not going to stop until we find my son's murderer. We will find his murderer, but we need all of you."
This story has been updated from a previous version.