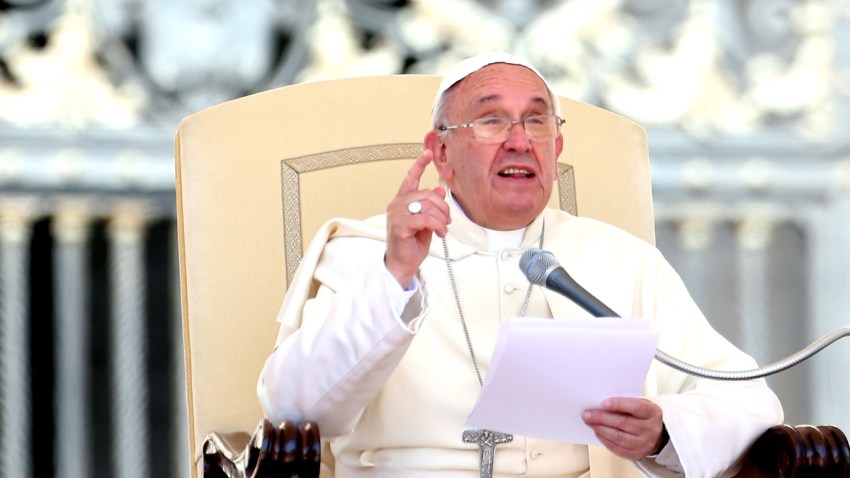 Pope Francis arrived in the D.C. area on Tuesday, with a historic and event-packed visit ahead of him. That means crowded Metro trains, plenty of road detours, changes to parking enforcement and more.
This means life in D.C. is even more chaotic than normal. Here's what you need to know.
Can I actually get to work?
Yes, but it may be complicated. Could you telework instead? Officials suggest working from home if possible. Earlier this month, the Office of Personnel Management called on federal agencies to allow teleworking during the pope's visit.
If you do have to go to work, consider taking mass transit. However, be aware that some Metro stations may shut down or become entrance-only or exit-only at different times.
If you normally drive, keep in mind that numerous road closures will be in effect, and traffic will be exceptionally heavy.
No matter what you do, plan ahead and leave plenty of time to get to your destination. The D.C. Department of Transportation is telling commuters to be prepared for long delays.
So what's going to happen with Metro?
Metro will be open during its normal weekday hours, 5 a.m. to midnight, during the pope's visit.
Trains will have regular rush hour service, with extra trains at midday and in late evening at "near rush-hour service levels," Metro said.
However, despite the extra service, trains are expected to be extremely crowded, Metro warned. Be prepared for packed trains, delays and long lines.
There are also a few things you can do in advance.
Load up your SmarTrip card beforehand so you won't have to wait in line at fare machines. Also, expect that some stations or entrances/exits may be temporarily closed. Find out the nearest alternate stations to your planned destinations, and brush up on your knowledge of alternate entrances/exits.
Can I bring everything on Metro that I normally take?
You won't be able to bring bikes or large coolers on Metrorail on Wednesday or Thursday. Metro is asking riders to travel light, and is discouraging people from bringing in other bulky items.
Remember that any bag, package or container carried into the Metrorail system could be searched by Metro Transit Police. Metro said the searches are random and non-invasive.
Can I drive around D.C.? Do I even want to?
You probably don't want to -- and in some areas, you simply won't be able to. Driving in the city will likely be a huge struggle. Road closures will be in effect downtown and in other areas that Pope Francis will visit, including Brookland and Capitol Hill.
If you absolutely must drive, be prepared for extremely heavy traffic. Wednesday morning rush hour traffic into the city is expected to be the heaviest of the visit days, NBC4 transportation reporter Adam Tuss said. It doesn't appear any bridges will be shut down during the pope's visit.
How about Metrobus?
Metrobuses will be running -- with some big exceptions. First, eight Metrobus routes will not run at all Wednesday or Thursday: 3Y, 16Y, 37, D1, D3, H1, L1 and S1.
Second, dozens of other Metrobus routes will be detoured, shortened or otherwise affected by the pope's visit, and increased traffic will delay other routes. Areas facing the most disruptions are Brookland, downtown, around the U.S. Capitol and the White House, and near the U.S. Naval Observatory. See all Metrobus service changes here.
What if I need MetroAccess?
MetroAccess will run on a regular schedule -- but again, there may be detours, delays and service changes in place. MetroAccess riders should expect trips to take longer, and door-to-door service may be limited near papal events. To cancel a non-essential trip, riders may call 301-562-5360 or visit wmata.com/metroaccess.
Can I send my kids to school?
All D.C. public schools will be open next week, but the following charter schools will be closed Wednesday:
Academy of Hope
D.C. Prep Edgewood
Elsie Whitlow Stokes Public Charter School
Imagine Hope Public Charter School -- Tolson Campus
Inspired Teaching Public Charter School
KIPP D.C. (all locations)
Latin American Montessori Bilingual locations
Mundo Verde Public Charter School
Shining Stars Montessori Public Charter School
Yu Ying Public Charter School
One charter school will be closed both Wednesday and Thursday:
St. Coletta Public Charter School
Families with students in open schools should be prepared for detours and delays during the pope's visit, D.C. Public Schools said. Check the DCPS website for updates throughout the week in case things change.
Will my trash get picked up?
You may have some changes if you live in Wards 3, 4 and 5 of the District.
In Ward 3, bulk waste collections scheduled for Wednesday will be postponed to Friday. On Thursday in that ward, trash and recycling collection will begin at 7 a.m. and continue until streets are closed for papal events, unless the temperature is 90 degrees or the air quality is Code Orange or Red. In that case, collection will begin at 6 a.m.
In Wards 4 and 5, trash and recycling collection will begin at 6 a.m. Wednesday to ensure it's done before streets are closed for papal events.
Can I fly a drone?
No. Flying a drone anywhere Pope Francis is visiting will be illegal, the Federal Aviation Administration (FAA) said.
The FAA has temporarily expanded restrictions for all aircraft, including drones, for D.C. and its surrounding areas through next Sunday, Sept. 27. The restricted areas include Potomac Airfield, College Park and Washington Executive/Hyde Park airports.
Can I still get a parking ticket?
Yes, yes, you can.
In fact, there will be extra restrictions in place during the pope's visit, so parking enforcement officers will be monitoring those areas as well. Look for special-event parking signs with messages such as "Emergency No Parking," said the D.C. Department of Public Works.
There is a single exception to parking enforcement during the papal visit. Street cleaning will be suspended in certain areas, so inside those perimeters only, street sweeping restrictions will not be enforced. (Remember that all other parking regulations, even in those areas, will still be in effect). Those areas are as follows:
200 block of E. Capitol Street NE/SE
200-300 blocks of Massachusetts Avenue NE
Unit block of Michigan Avenue NE
Unit block of Girard Street NE
Unit block of Franklin Street NE
Lincoln Road NE between Franklin Street NE and 4th Street NE
Monroe Street NE between Michigan Avenue and 8th Street NE
All other parking restrictions throughout D.C., such as residential parking permit areas, meter restrictions, etc., will continue to be enforced.