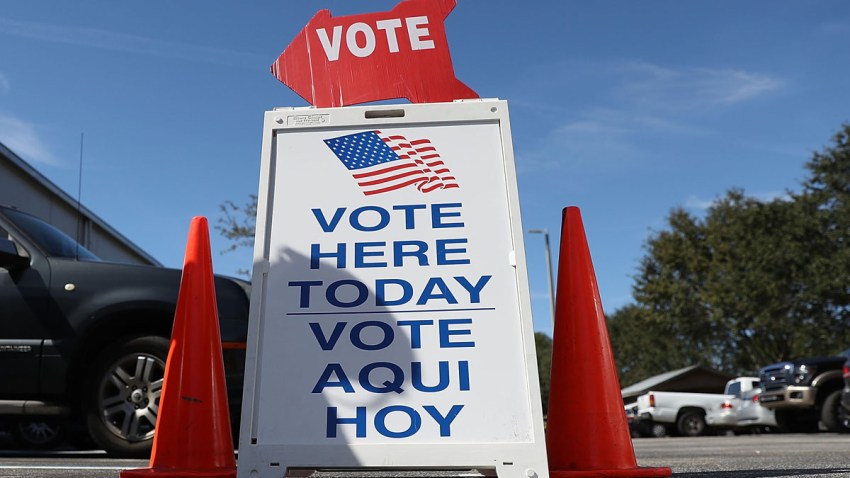 Virginia voters are making their choices for governor, attorney general, lieutenant governor and delegates to the state House on Tuesday.
Polls are open 6 a.m. to 7 p.m. Bring a photo ID. Valid forms of identification include a driver's license, passport or student ID. A voter who forgets ID can cast a provisional ballot but will have to complete follow-up steps to ensure it's counted.
Anyone not already registered won't be able to vote. Virginia doesn't allow same-day registration.
GOVERNOR
Virginia has the nation's only competitive governor's race this year and it could be an early referendum on President Donald Trump's popularity ahead of the 2018 midterm elections.
Republican Ed Gillespie , a White House adviser to President George W. Bush and multimillionaire lobbyist, has run on lower taxes, tougher policies toward immigrants in the state illegally, and on preserving the state's Confederate statues.
Democrat Ralph Northam, a pediatric neurologist and lieutenant governor, has promised to continue many of the policies of current Gov. Terry McAuliffe, who is barred from seeking a second term. Northam has championed increased spending on public education, tighter gun rules, and strong support for abortion rights.
Most polls have shown a close contest, and both candidates have been helped by big names. Former President Barack Obama held a rally with Northam and former presidential candidate Hillary Clinton helped him raise money.
Bush appeared at three fundraisers for Gillespie, who also campaigned with Vice President Mike Pence and Sen. Marco Rubio of Florida. Trump tweeted out support for Gillespie, but didn't campaign with him. Gillespie largely kept his distance from the president, who most polls show is unpopular overall in Virginia.
Libertarian Cliff Hyra is also running on a campaign platform of protecting personal freedoms and limiting government power.
ATTORNEY GENERAL
Republican John Adams is challenging Democratic incumbent Mark Herring in the only attorney general contest in the country this year.
Adams , a former federal prosecutor, is making his first run for political office. Herring, a former state senator, is seeking his second term as Virginia's top lawyer.
Herring drew national attention early in his first term when he said he would not defend a 2006 state constitutional amendment banning same-sex marriage in Virginia. Adams, an opponent of gay marriage, sharply criticized Herring during the campaign for refusing to defend a measure approved by Virginia voters and the state legislature.
Herring said his position was validated by the U.S. Supreme Court, which struck down gay marriage bans as unconstitutional. Herring portrayed Adams as a staunch conservative who is out of touch with most Virginians on social issues, including gay marriage, women's access to contraception and gun control.
Herring served as a state senator for eight years before being elected attorney general in 2013. Adams is a corporate defense lawyer who works for McGuireWoods, one of the most powerful law firms in Virginia.
LIEUTENANT GOVERNOR
Democrat Justin Fairfax and Republican Jill Vogel are competing for the largely ceremonial position that's often a stepping stone to higher office.
Vogel, a state senator from Fauquier County and attorney for right-leaning causes, has cast herself as a Trump supporter with bipartisan credentials who puts "principle before party." She's touted her willingness to break with her party in supporting an openly gay judge, on environmental issues, and on low-profile but important issues such as redistricting reform.
Fairfax is a former federal prosecutor and the only African-American statewide candidate. He's never held office before but was a briefing coordinator for Tipper Gore during her husband Al's 2000 presidential campaign and also worked on the staff of then-Sen. John Edwards, D-N.C. He's made a campaign issue of legislation Vogel sponsored in 2012 that would have required women to receive an ultrasound before getting an abortion.
The lieutenant governor, a part-time position, involves presiding over the state Senate and breaking tied votes.
HOUSE OF DELEGATES
All 100 seats in the GOP-controlled House of Delegates are up, and Democrats have seen a surge in candidates challenging Republican incumbents.
Sixty seats are being contested by candidates of both major parties, more than in any year for at least two decades.
Most observers don't think Democrats will be able to pick up the 17 seats they would need to retake control of the lower chamber but expect them to chip away at least a handful.
Much of the focus is on the 17 Republican-held districts where Clinton beat Trump last fall. Democrats have challengers running in all of those districts.
Election Day could also bring a number of firsts, including the election of the first Latina or female Asian-American delegate. And northern Virginia House candidate Danica Roem, whose campaign against longtime incumbent Bob Marshall has drawn national attention, could become the state's first transgender lawmaker.
Copyright AP - Associated Press