What to Know
Saturday and Sunday temps will be around 90 degrees, but most of the D.C. area will stay dry
There will be periods of some humidity, but overall it's a great weekend to get outside
A heatwave with some sticky, humid days is in the works
It's finally cooled off (a little) and the fun activities are endless this weekend.
Check out a Shark Week kickoff party, Cirque du Soleil, Aladdin on Broadway, a dog happy hour, life-sized bingo, plenty of live music and more.
All Weekend
Free Pick
Bethesda Outdoor Movies
July 24 - 27
Bethesda's Woodmont Triangle, Corner of Norfolk and Auburn Avenues
This week, Bethesda Outdoor Movies is hosting four nights of blockbuster hits in downtown Bethesda, starting on Wednesday, July 24. The 15th annual movie series features "Crazy Rich Asians" on Friday night and "As Good As It Gets" on Saturday. Show times begin at 9 p.m. with a limited number of chairs provided. Admission is free.
"Aladdin" at the Kennedy Center
July 18 - Sept. 7
Kennedy Center, Opera House
Your wish came true: Disney's "Aladdin" is in D.C. The magical, timeless broadway show will reveal a whole new world for the whole family. Tickets range from $39 to $179, and they are most available on Sunday nights or weekdays. Buy them here.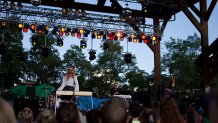 FloydFest
July 24 - 28
894 Rock Castle Gorge Road, Floyd, Virginia
Local
Washington, D.C., Maryland and Virginia local news, events and information
FloydFest is an annual, 8-stage music festival in Patrick County, Virginia. Attendees can camp off- or on-site for five full days of country and folk music. Kacey Musgraves, this year's Grammy Award winner for Album of the Year, is slated to perform. The String Cheese Incident, Phil Lesh & The Terrapin Family Band and Brandi Carlile will also take the stage. Available tickets range from $110 to $320 depending on how long you want to spend at the festival, but hurry up — some ticket categories have sold out already.
Cirque du Soleil: VOLTA
July 25 - Sept. 8
Lerner Town Square at Tysons II, 8025 Galleria Drive, Tysons, Va.
This Cirque du Soleil show is inspired by the culture around street sports, and is "about being true to oneself, fulfilling one's true potential, and recognizing one's own power to make it possible," according to the event's website. Part story, part acrobatics show, this performance will be in Virginia until September. Tickets start at $49, and you can get them here.
Citi Open
July 27 - Aug. 4
Rock Creek Park Tennis Center, 5220 16th St. NW
Citi Open was one of the first open professional tennis tournaments held in the U.S., and has been part of some of the most innovative changes in tennis. This summer, it will be at the Rock Creek Park Tennis Center at 16th & Kennedy Streets NW, and in addition to a series of tennis matches, will also host food vendors like Duke's Grocery, Dolcezza Gelato and Compass Coffee. Tickets vary in price depending on whether you want a single session, full series or premium seating deal, but prices start at $15, and you can get them here.
Vienna's Used Book Cellar
Sunday, July 28
131 Church St. NE
Book lovers unite — this store in Vienna, Virginia has a wide range of fiction, mystery, history, biographies, cookbooks, self-improvement, humor, reference, children's books and more - all for $1 - $2. The store is open on Wednesdays through Sundays from noon to 4 p.m., and invites calls at 703-938-5187 if you're looking for something specific.
Top 10 Beaches Near the DC Area
Friday
Kaypi Peru Festival at the American Indian Museum
July 26, 10 a.m. - 5:30 p.m.
American Indian Museum, Potomac and Rasmuson Theater
The Kaypi Peru — "I am Peru" in the indigenous Quechua language — festival co-hosted by the American Indian Museum and the Embassy of Peru will feature Peruvian food, art, crafts, music, dance, a film screening and hands-on activities for kids. You can check out the full program here.
Secret Comedy Show
July 26, 7:30 - 9:30 p.m.
Secret Location in Chinatown
Address revealed at noon Friday via email
Spice up your weekend with some spontaneous humor. The name of this event isn't exaggerating — the Secret Comedy Show is somewhere in Chinatown, and features at least one comedian, but the details won't be revealed until the day of the show via email for those who sign up. The event is free, 21+, BYOB and goes from 7:30 to 9:30 p.m. on Friday. General admission tickets are sold out, but sign up for the waitlist here.
Free pick
Live Painting and Music Jam
July 26, 8 p.m.
Black Cat, Red Room, 1811 14th St. NW
This event promises paintings done in real time by local artist Zhenya Parish, to live music by Sonia Herrero, a D.C.-based violinist, and Corey Thuro, a musician specializing in the mandolin. The event is free, doors will open at 8 p.m. and there will also be tarot card readings.
Saturday
Tiki Yards
July 27, 1 – 5 p.m.
The Yards Park, 355 Water Street SE
The Yards are hosting one of the largest Tiki-themed block parties in D.C. this weekend, transforming into an island paradise for visitors. The event will feature a live steel drum band, oversized lawn games, tiki bars with tropical cocktails, an inflatable surfing simulator and more. Tickets cost $10 and can be found here.
Free Pick
Shark Bites & Brews
July 27, 2 -5 p.m.
District Pier, 101 District Square SW
Shark aficionados (everyone) will love kicking off Shark Week at the Wharf. Shark-themed beers like the Landshark Lager, Cisco Shark Tracker and Ballast Point Fathom will be available for purchase. Kids can play pin the tail on the shark (no sharks will be harmed), color shark pictures or decorate shark piggy banks. Not convinced? There will also be a great white mechanical shark and a monster shark water slide you can ride.
Culture Carnival DC
July 27, 2 - 9 p.m.
Karma DC Live Music Venue, 2221 Adams Place NE
Celebrate D.C.'s black and Latin cultures with live Carribean music, food, henna, body piercings and painting, spiritual cleaning and more. The event is 21+ and tickets start at $10 plus a small fee. You can buy them here.
Pickin' on the Porch
July 27, 7 - 9 p.m.
Agricultural History Farm Park
This family-friendly event promises a relaxing evening full of music. There will be acoustic, roots and bluegrass songs played by local music artists, as well as an open mic and the chance to bring your own instrument and play with other musicians. Tickets only cost $5, so pack a picnic and bring your family.
Trill Grill Fest 2019
July 27, 4 p.m. - Midnight
Gateway DC, 2700 Martin Luther King Jr. Avenue SE
Live music, drinks, flip cup, sunshine and lots of barbecue — what's not to love? General admission tickets are $55 and get you access to the open bar for three hours. For $200, enter a team of five in the flip cup tournament and enjoy three-hour access to the open bar. The winning team gets $500 and VIP ticket upgrades with free drinks, food and AC.
Disney Pixar's Coco: In Concert Live to Film
July 27, 8:30 - 11 p.m.
Wolf Trap Foundation for the Performing Arts, 1551 Trap Road, Vienna, VA
If you want to relive the magic of Disney Pixar's "Coco," you can go to Wolf Trap on Saturday and watch the story of Miguel as the National Symphony Orchestra plays along. The film will be projected in HD onto big screens in-house and on the lawn, and all screens will have captioning for guests who are deaf or experiencing hearing loss. Tickets range from $40 to $65, and can be purchased here.
Sunday
Free Pick
(Let's) PLAY: Interactive Bingo
July 28, 6 – 9 p.m.
The Rooftop at Union Market, 1309 5th St NE
Artist Maggie O'Neill presents... life-sized bingo! There will also be games, art, food and drink for purchase, raffles, live entertainment and regular bingo. A portion of the art sales will go to Children's National. You can RSVP here.
Yappy Hour
July 28, 12 - 2 p.m.
Wunder Garten at NoMa, 1101 First Street NE
Entry is free for this adorable Sunday happy hour. Ahead of Clear the Shelters on Aug. 17, join the Humane Rescue Alliance for two hours of quality time with fluffy dogs at Wunder Garten, an outdoor beer garden.
Botanicals Workshop with One Eight Distilling
Sun, July 28, 2019, 2 - 3:30 p.m.
1135 Okie St NE
One Eight Distilling is ginning up enthusiasm for botanicals this Sunday. Learn about what goes into your gin, then make your own: The popular cocktail base is usually distilled from juniper berries and other botanicals. The event is part of Slow Food DC's "Summer of Sustainable Beverages," and tickets are $30.
Weekend Scene is edited by Sophia Barnes