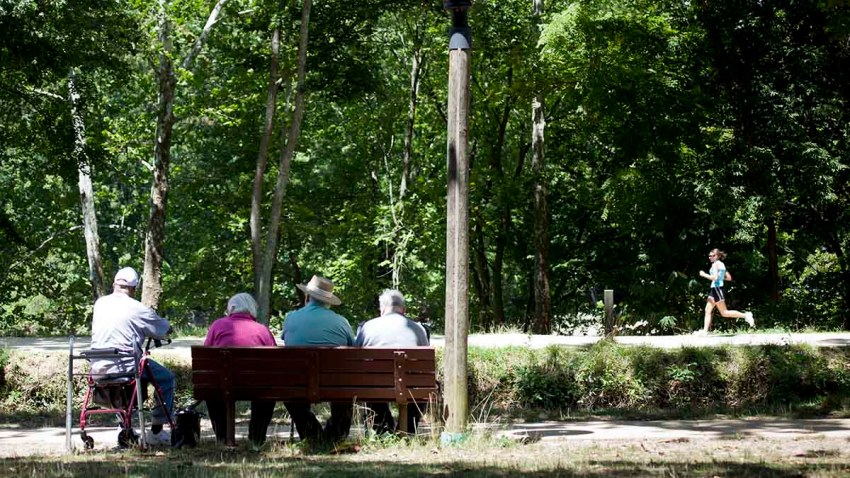 Spring is at our doorstep with temperatures reaching the 70s this week, so it's time to break your cabin fever. Wondering where to go to soak in the warmth? Here are 10 things you can do to enjoy this week's weather.
Dine Outside
Enjoy the fresh air, people watch and catch a happy hour all while enjoying some great food outside. Whether it is a patio or rooftop, dining outside makes for the ultimate ambience enhancer. For a nice view, check out Perry's restaurant in Adams Morgan. This Japanese rooftop bar makes for an awesome outside eatery. Time it right and you just may add a sunset into the mix. Surround yourself with a botanical garden on the patio at Blue Duck Tavern in the West End with New Orleans classic cuisines.
Feeling Artsy?
Go to America's first museum of modern art: The Phillips Collection. Spend the afternoon viewing works of modern art in an intimate setting. This internationally recognized museum is located in Washington's vibrant Dupont Circle neighborhood. Paintings by Renoir and Rothko, Bonnard and O'Keeffe, van Gogh and Diebenkorn are among the many stunning impressionist and modern works that fill the museum's distinctive building.
The permanent collection is free of charge Tuesdays through Fridays at 1600 21st St. NW.
The Best Defense Is a Good Offense: A Walk for HIV Prevention
Spend your time outside for a cause. This Thursday, the U.S. Department of Health and Human Services' Office on Women's Health will help raise awareness about preventing the spread of HIV and AIDS among women and girls. The walk will begin at the National Sylvan Theater on the National Mall and end at the Hubert H. Humphrey building. This free event is from 11:45 a.m.–1:30 p.m.
Take a Hike! Literally!
With weather this warm, you don't want to miss it by being inside. Go tackle the great outdoors by biking or walking one of the nearby trails. Plus, it's great exercise. The Chesapeake & Ohio Canal stretches 184.5 miles from Georgetown to Cumberland, Maryland. Now that's more than enough road to cover.
Time to Play: Miniature Golf
Putter to East Potomac Golf Course for a round of miniature golf. Add some competitive edge to this week's relaxing weather, or make it a game of fun. Either way, you will be surrounded with gorgeous scenery of the Potomac.
Optimum Lighting Equals Optimum Selfies
Take pictures at the Chinatown Friendship Arch at the corner of 7th and H streets NW. Don't stop there! Since you are in the neighborhood, catch a hockey game, a play in the Penn Quarter or museum hop. This vibrant community is filled with dozens eateries, shop and attractions all in walking distance. Something is sure to spike your interests.
Check Out a Great Garden
Picnicking at one of D.C.'s most enchanting gardens could be the activity you need to really enjoy the outdoors. Browse through the Hillwood Estate, Museum and Gardens and explore 25 acres of gardens. The mansion is open Tuesday through Sunday 10a.m. to 5 p.m. with a suggested donation of $18.
Dance! Dance! Dance!
Test your moves and dance your way to Café Citron in Dupont Circle. On Friday nights, free salsa lessons are offered from 9:30 to 10:30 p.m. The lively Latin venue serves a full menu and plenty of cocktails.
Rock 'N' Roll Marathon
Cap off the week by participating in the Rock 'n' Roll DC Marathon and ½ Marathon. This Saturday at 7:30 a.m., choose from running a marathon, half marathon or 5K. Finish up at RFK Stadium and rock out to a post-race concert while enjoying a complimentary beer.
ShamrockFest
Also Saturday, head over to RFK Stadium and jam out at this year's ShamrockFest 2016! This event is D.C.'s biggest St. Paddy's Day party. Over 30 bands, DJs and performers will take on six stages. Check out the carnival rides, party games and fast beer service. Click here for tickets and more information.