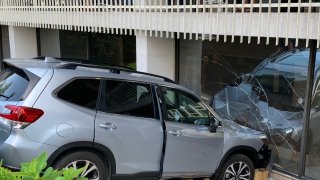 A car crashed in to the Watergate complex, which includes the Watergate Hotel in D.C. Friday afternoon injuring one person, according to DC Fire and EMS.
Authorities reported a vehicle striking a building in the the 2600 Block of Virginia Ave NW at 2 p.m. Friday. A rescue squad on the scene was needed to stabilize the vehicle before the driver was safely removed, DC Fire said. A driver in a second car was transported to a hospital with non life-threatening injuries.
Photos from the incident shows a silver car that hit a window under a balcony at the complex. It appears that the car also drove through a fence and bushes before hitting the window. In the photos, cracks to the window and damage to the front of the car can be seen.
The Watergate complex, which also houses businesses and apartments, did not have an structural damage from the incident. Details about the second car were not immediately available.