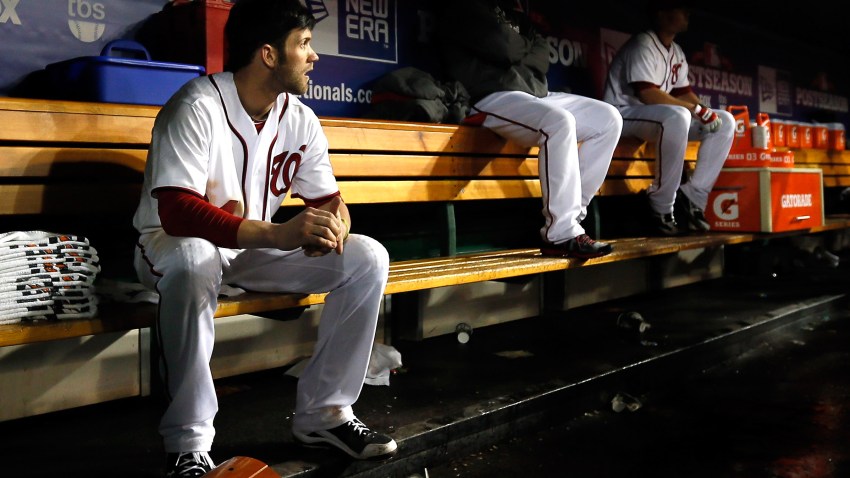 At 1:00 a.m. Saturday morning, I stepped outside of my apartment and into the pinching cold to make sure that I wasn't dreaming.
The Washington Nationals had just blown a 6-0 lead to the reigning World Series champion St. Louis Cardinals, who will get their chance to defend that title after an improbable 9-7 Game 5 victory. Across town, Nationals Park went from hosting one of the defining moments in D.C. sports history to one of the world's largest wakes.
If the cold reality wasn't enough to wake me up, then the bloodcurdling scream I heard surely was.
"AAAAAH!" The voice bellowed in agony, ringing throughout my neighborhood. "HOW COULD THIS HAPPEN AGAIN?!"
I sighed in resigned disbelief. It had happened again. A Washington sports franchise had filled the city's denizens with hope, only for it to be snatched away, much to our collective chagrin.
It's a feeling that we in Washington have unfortunately come to know all too well, but as I looked across the street and saw a dark and desolate Kettler Capitals Iceplex, locked down for the night and locked out for the foreseeable future, I was reminded of something.
First, full disclosure: I am far from a baseball fan. My family never truly embraced baseball and I can barely catch one, having had three root canals after shagging a fly ball with my mouth when I was 11, the effects of which can still be seen today every time I flash a gap-toothed smile. I, however, have always been a hockey fan and since I moved to D.C. to attend American University in 2007, I have religiously followed the Washington Capitals. To be perfectly honest, it is because of the Caps that I have the opportunity to share my thoughts with you right now on this very site.
My arrival here coincidentally coincided with the Caps' return to relevance. During the 2007-08 season, a 6-14-1 start gave way to one of the more improbable comebacks in NHL history. By winning 11 of their final 12 games, the Caps became the first team in league history to win its division after ranking 14th or lower in its conference at the season's midway point. On April 5, 2008, in front of a rabid and resuscitated fanbase at a deafening Verizon Center, the Caps defeated the Florida Panthers 3-1 to clinch their first Southeast Division title since 2001 and first playoff berth since 2003.
I was downtown that evening and the euphoria emanating from Chinatown was palpable. Washington had a team it could rest its championship aspirations on again.
The Caps drew the Philadelphia Flyers in the first round, a far more battled-tested team in recent years. Yet, none of that mattered in Game 1, when Alex Ovechkin and Mike Green led Washington back from a 4-2 deficit in the third period for a 5-4 victory. Philadelphia, however, reasserted its dominance in Games 2-4, winning all three, including a deflating 4-3 double-overtime loss for the Caps that saw future Cap Mike Knuble sneak the game-winner by Cristobal Huet.
Down 3-1, no one would have blamed Washington for bowing out. After all, no one expected them to be there, at least not yet. But the Caps rallied for two victories to force a decisive Game 7 at Verizon Center. With the game tied 2-2 at the end of regulation, the teams headed to overtime. Six minutes in, Joffrey Lupul poked in a rebound to send the Flyers to the next round and the Caps and their fans home shocked and disappointed.
As I watched the Nationals face the Cardinals, I couldn't help but make comparisons between that series and the one I detailed above. Tyler Moore was Ovechkin, coming through in the clutch in a series-opening game that Washington had no business winning. Games 2 and 3 were Games 2-4, where it seemed like the reality that maybe Washington just wasn't ready was starting to set in. Games 4 and 5 in 2008 was Game 4 Thursday, when logic was replaced by a logic-be-damned alternate reality. Sadly, Lupul was Pete Kozma, a scrawny and relatively-unknown kid who will become part of D.C. sports lore for all the wrong reasons. Game 5 was Game 7, which was, simply put, a hard punch in the gut.
Yet, perhaps the most important comparison is in the stands. From Wednesday to Friday, 45,000 people came together for a common purpose. There were diehard fans who had been there from the beginning and casual fans who bought their division championship shirts en route to the park. Yet, based on looks alone, you couldn't tell the difference between the two as everybody rocked their red and wore their Curly W's just like their Weagles: with pride. Try as they might, they've been sucked in now, and they're not going anywhere.
The Nationals have their own "Young Guns" now in Stephen Strasburg, Bryce Harper et al. who will be tasked with transforming their team from cellar-dwellers to perennial contenders. Just like on that defining April evening over four years ago, Washington has a team it can rest its championship aspirations on again.
Scouring Twitter late last night, the prevailing sentiment among Nationals fans was one of bitter disappointment, but renewed optimism, the latter something that baseball fans in the District might have never experienced before.
"Sorry," manager Davey Johnson said after the game when asked if he had a message for Nats fans. "We'll make it up to them next year."
And for the first time, just like the Caps in 2008, fans can actually believe that.
---
Follow Adam on Twitter @AdamVingan and e-mail your story ideas to adamvingan (at) gmail.com.