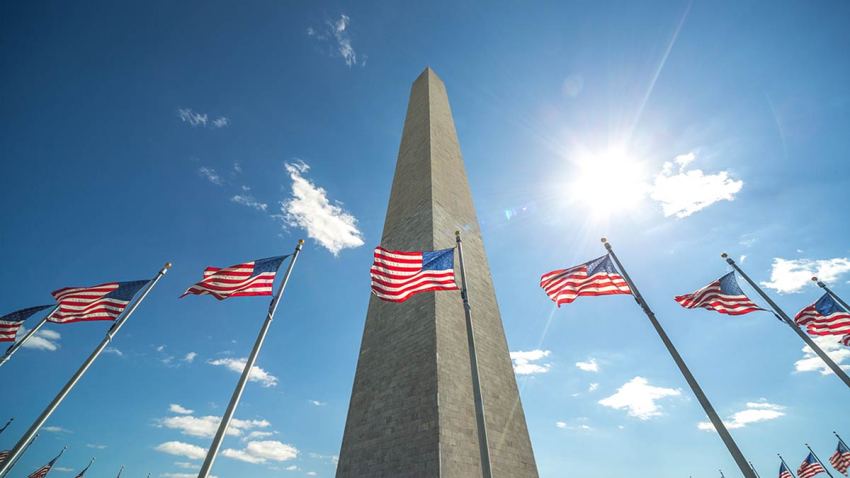 The lone, balky elevator that takes visitors to the top of the 555-foot Washington Monument needs a major renovation that will require closing the landmark for nine months, officials said Wednesday.
The elevator has broken down frequently over the past two years, roughly since the monument reopened following the August 2011 earthquake that did major damage to the structure.
The monument needed $15 million in repairs and was closed for nearly three years, but the National Park Service (NPS) did not renovate the elevator during that time.
That turned out to be a mistake, said D.C. Del. Eleanor Holmes Norton.
NPS officials briefed Holmes Norton on Wednesday about the elevator problems.
"I believe NPS erred in not rehabilitating the elevator when the monument was closed for renovations," Holmes Norton said in a statement. "When an elevator seems to be in good shape, but is a one-of-a-kind elevator that operates 13 hours per day from Memorial Day to Labor Day, and eight hours per day thereafter, the elevator's lifespan must be uniquely measured."
The monument has been closed for a thorough inspection of the elevator since a cable broke a week ago.
The inspection was expected to last 10 days, but the NPS said Wednesday that it won't be completed until mid-September at the earliest.
And there's no guarantee that the elevator will reopen after the inspection is finished, said Mike Litterst, an NPS spokesman.
There's also no timetable for starting the 9-month renovation, which is expected to cost between $2 million and $3 million, the NPS said. The NPS will award a contract for the big renovation.
It'll be the first time the elevator system has been updated in nearly 20 years.
Norton said the NPS should try to finish the work before next year's tourist season, but that won't be possible.
"It'll be measured in months" before construction starts, Litterst said.
He added that preliminary inspections have shown "no indication that the recent troubles are related to the earthquake."
Holmes Norton said she thinks the NPS is finally on the right track.
"It's easier to say that it may close down for almost a year, to be totally fixed, than have it close down periodically and not know when it's going to happen," she said.
Copyright AP - Associated Press