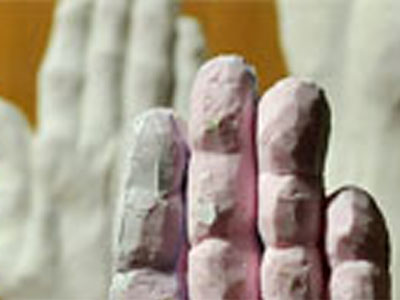 Raise your hand if you support voting rights in Congress for the citizens of the District of Columbia.
That's what artist Peter Krsko is doing with his politically charged project "Give Me a Vote."
Don't be afraid if you see 100 hands emerging from the ground around town next week. It isn't "Night of the Living Dead," but support of a vote for D.C. residents: living, working, paying taxes and getting sent to fight in Iraq and Afghanistan.
Thanks to a $22,000 grant, the 3-foot, 5-foot and 7-foot fiberglass hand sculptures will begin pusing up from the ground next week, Krsko said. "He hopes the raised hands will raise awareness to the D.C. voting rights fight.
Copyright AP - Associated Press