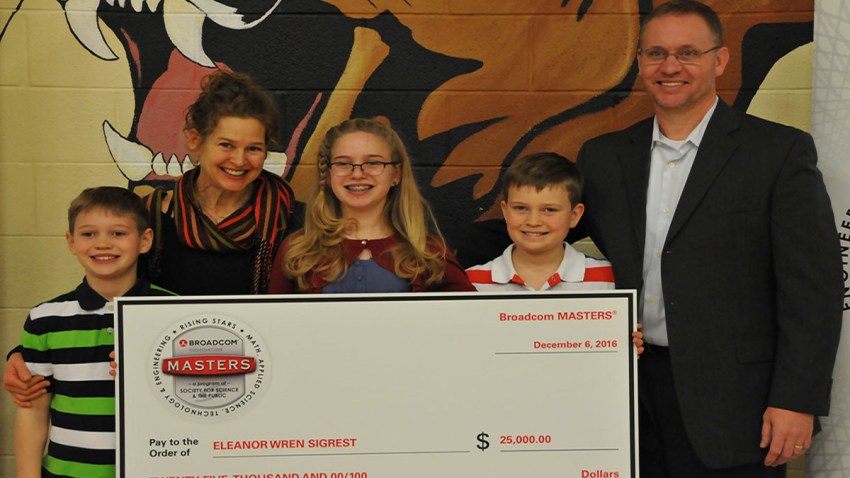 A 13-year-old Virginia girl was presented with a $25,000 check Wednesday after she took first place in a national science competition for her research on rockets.
Eleanor Sigrest, an eighth-grader at Benton Middle School in Manassas, Virginia, won the sixth annual Broadcom MASTERS (Math, Applied Science, Technology and Engineering Rising Stars) competition, which aims to spark young people's interest in science, technology, engineering and math (STEM).
"I had to compete against different challenges like building a brain ... or a prosthetic crowding with hydraulics," she said when she was presented with a plaque last week.
Eleanor's project, called "Rockets and Nozzles, and Thrusts, Oh My," researched rocket components that help stabilize rockets when they land. She said she got interested in cold gas rockets after SpaceX's Falcon 9 rocket exploded in September.
"I originally wanted to study combustion rocket engines, but my mom wouldn't let me use explosives on the kitchen table," she said when she was awarded the plaque.
Eleanor played with the angles of nozzles on cold gas rockets and determined that a 20-degree half angle is the best compromise between the nozzle's length and thrust. She used a 3-D printer to make nozzles, built an apparatus and designed and programed a system to collect and record data on force, pressure and temperature as gas came out of the nozzles, the Broadcom MASTERS website says.
The Broadcom MASTERS competition is held by the Broadcom Foundation and Society for Science & the Public, a nonprofit that aims to increase appreciation for science. The competition is open to middle school students nationwide. Eleanor beat out 2,342 other students.
Though Eleanor is only in middle school, the budding engineer already has big plans.
"I plan to be the first person on Mars," she said.