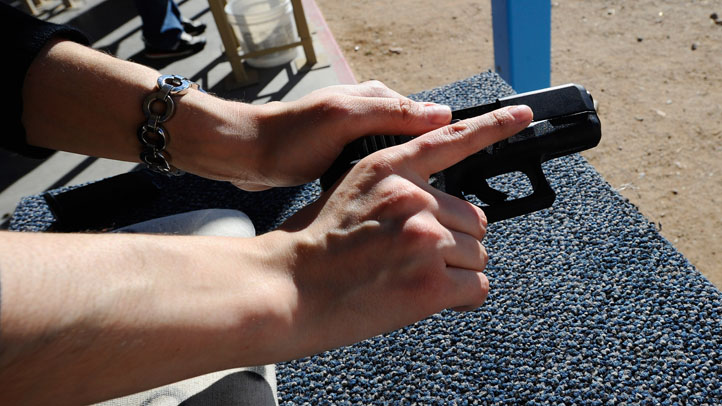 A Virginia Senate committee rejected legislation Monday that would have expanded background checks at gun shows after an attempted compromise between gun-control supporters and opponents pleased neither side.

Under current law, only licensed dealers are required to obtain background checks on buyers at gun shows. Proposals to extend that requirement to private sellers have been rejected several years in a row in the General Assembly. The Senate committee rejected a revised version of the bill last month, but Sen. John Edwards obtained the Senate's unanimous consent to introduce a new bill that he hoped would satisfy both sides.

This one would have required the Virginia State Police to be available at gun shows to conduct the checks if a private seller wants one – "a true compromise," said Edwards, D-Roanoke.

Sen. Janet D. Howell, D-Fairfax, said voluntary background checks are "a pitiful response" to mass shootings in recent years, including the 2007 Virginia Tech massacre and the December slayings at Sandy Hook Elementary School in Newtown, Conn.

"It's verging on deceptive," she said. "It will make it look like we've done something, where in fact we've done nothing."

Andrew Goddard, whose son Colin was wounded in the Virginia Tech shootings, called the voluntary process a small step forward. However, he said it would not stop sales to people who aren't legally allowed to have guns because of mental illness or felony or domestic violence convictions.

"This bill will narrow the door a little bit but will not close it," he said, vowing to return next year to lobby for a stronger law.

Chuck Cunningham of the National Rifle Association said the gun-rights organization had no problem with voluntary background checks but had concerns about some details in the legislation. He also questioned the need, saying the notion that weapons sold at gun shows are used in mass shootings "is a figment of imagination."

Annette Elliott, president of Showmasters Gun Shows, said she arranged for a licensed dealer to conduct background checks for any private sellers who wanted to obtain one at a recent gun show in Richmond. Fewer than five of the approximately 6,000 people who attended the show used the service, even after she announced over the public address system that the dealer had discounted his fee from $25 to $10, Elliott said.

Edwards' bill was the last remaining gun control measure before the 2013 General Assembly, which previously had rejected proposals to ban military-style assault weapons and large-capacity ammunition magazines, and require universal background checks on gun buyers.
Copyright AP - Associated Press