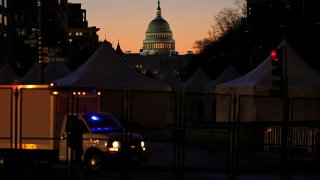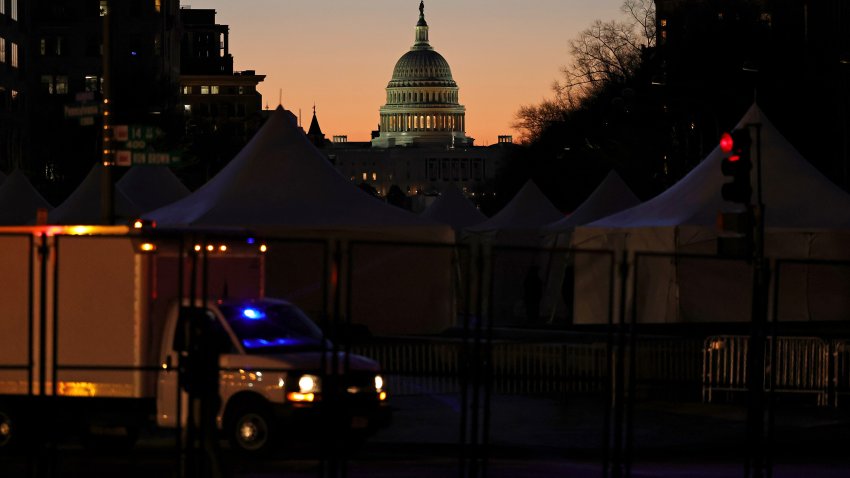 A Virginia man was arrested at a checkpoint along the perimeter securing downtown Washington, D.C., ahead of Inauguration Day after he showed police a "non-government issued" inauguration credential and officers found a gun and hundreds of rounds of ammunition in his pickup truck.
Wesley Allen Beeler, of Front Royal, said in an interview that he made an honest mistake.
Beeler pulled up to a security checkpoint at North Capitol and E streets NW about 6:30 p.m. Friday in a white Ford 150 truck with Virginia tags and gun-related decals, according to U.S. Capitol Police records.
Beeler said he had been working as a security guard in D.C. when he got lost and stopped to ask for directions. He said he provided police with an inauguration placard he was given for the security job and had used several times before.
Authorities didn't detail what Beeler provided, but when the credential didn't match up with a list of people authorized to enter the perimeter, police investigated.
They said the truck Beeler was driving was decorated with firearm decals, including ones that said "Assault Life" and "If they come for your guns, give 'em your bullets first."
Local
Washington, D.C., Maryland and Virginia local news, events and information
Stay informed about local news and weather in the D.C. area. Get the NBC4 Washington app for iOS or Android and pick your alerts.
A gun with a high-capacity magazine inserted and ammunition were found in the truck, police said. The gun was not registered in D.C. police said.
"I forgot that I had my weapon in my vehicle. You know, I'm a Virginia resident who has licensing and training in the state of Virginia for this firearm," Beeler said.
Police said they also found "509 9MM rounds of hollow point & ball ammunition" and 21 12-gauge shotgun shells.
Beeler questioned the amount of ammunition police said they found.
"I'm not a bad person. I'm not connected to any hate groups. I'm not there to harm anybody," he said.
He was arrested and taken to U.S. Capitol Police headquarters for processing.
Beeler, who is a former corrections officer at the Rappahannock Regional Jail, is charged with carrying a concealed weapon, possessing an unregistered firearm, unlawful possession of ammunition and possession of a large-capacity ammunition feeding device.
"Everything I've done, every job that I've chosen, has been to protect people as much as possible. I don't want to be made an enemy, and I just want this to be forgiven so I can continue my life with family and act like it never happened," Beeler said.
Beeler was released from custody and ordered to stay out of D.C., which will mean he'll lose his job working security in the District, he said. He's due in court in March.