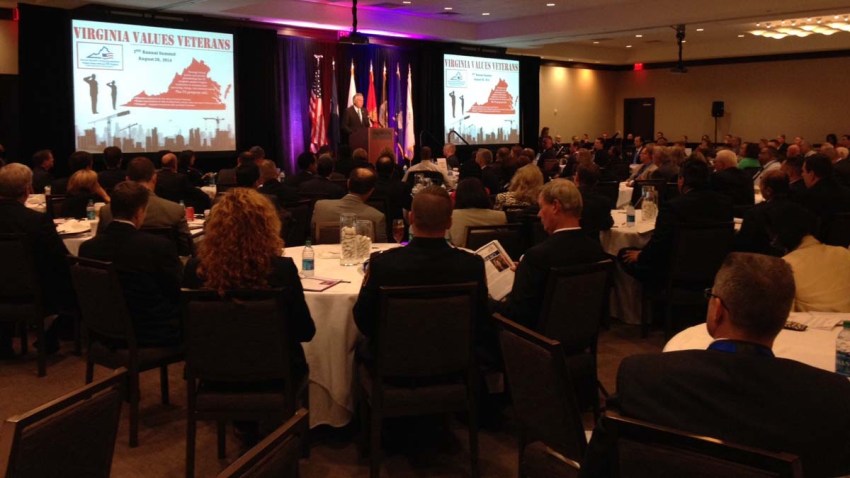 Speaking to a crowd of military veterans in Richmond Thursday, Virginia Gov. Terry McAuliffe said he plans to sign the "Patriot Pledge" on behalf of the commonwealth's government.
The "Patriot Pledge" is part of Executive Order 23, which in a statement McAullife said "will play a vital role in supporting the Virginia Values Veterans (V3) program and advancing my goal of building a New Virginia Economy by asking 10,000 businesses to sign a pledge of commitment to hire more veterans by 2018."
Virginia is now among those employers vowing to hire former service members.
In northern Virginia alone there are 31,000 job openings that require technical training, McAuliffe said.
McAuliffe said that means those veterans will need more training.
"We have jobs open in technology and all the stem fields as well as healthcare and advance manufacturing," the governor said. "So we're going to work with our Department of Education and Steve Staples, our superintendent of Public Instruction, to get our students... teaching them skillsets so they are ready for the workforce."
At the V3 summit Thursday, McAuliffe said 213 Virginia employers have been certified by the V3 program and "have committed to providing over 7,000 jobs for Virginia's veterans."
The governor said 5,339 Virginia veterans have already been hired since he took office in January.
Attorney General Mark Herring also said he will sign the Patriot Pledge.
"Virginia's military connections and veteran population are tremendous resources, but they also give us a responsibility to understand and meet the unique needs of veterans as they transition successfully back into civilian life," Herring said. "It's only fair that I live up to what I expect of others, so I'm proud to sign the Statement of Support for the Guard and Reserve and the Patriot Pledge, and I look forward to pursuing V3 certification."