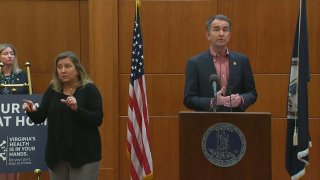 Gov. Ralph Northam updated the state of Virginia after the number of confirmed cases surpassed 600 on Friday.
Of the 604 positive cases, 93 are patients between the ages of 20 to 29. There have been 16 deaths in the state from COVID-19.
The Secretary of Health and Human Services Dr. Daniel Carey confirmed that Virginia Commonwealth University is reopening a hospital to specialize in COVID-19 and see overflow of other groups of patients.
The state's ICU bed capacity is around 2,000 with approximately one ventilator for each bed.
Northam said he is proud of the response from Virginians after the Virginia Medical Reserve Corps has had more than 650 volunteers sign up in the past two days and 1,500 people volunteer just in the past month.
"I am so proud of Virginians," Northam said. "This kind of spirit makes us the best state to live in."
Carey said they are still determining whether to require the VAVMC help. The state is already allowing reciprocal practice for doctors from neighboring states.
Local
Washington, D.C., Maryland and Virginia local news, events and information
When it comes to federal assistance, Northam said the state will receive $3.3 billion in federal funds from the CARE Act between now and December. Of that total, $1.8 billion will go directly to the state and $1.5 billion to cities and localities.
Northam said he along with D.C. Mayor Muriel Bowser and Maryland Gov. Larry Hogan are asking President Trump to set up a federal testing site as the states and the district are home to a large portion of federal workers.
"It's not a very effective, efficient system. That's why the governors collectively, around the country, have asked for some leadership, some direction, at the national level to make that testing more efficient," Northam said.
He said it can be challenging for individuals who are required to be at work to wait for the turn around of a test. State labs can take one to two days and private labs can take five to seven. The state labs have the capacity to test 1,800 patients.
Officials said they are screening individuals in juvenile detention centers every 72 hours. They are also working to to reduce the capacity in all correctional facilities and aren't accepting any additional occupants.
On a lighter note, Northam asking his staff to refrain from wearing neckties as they can harbor pathogens and spread disease.
If you're looking to donate supplies to Inova Health Systems, you can do it here.