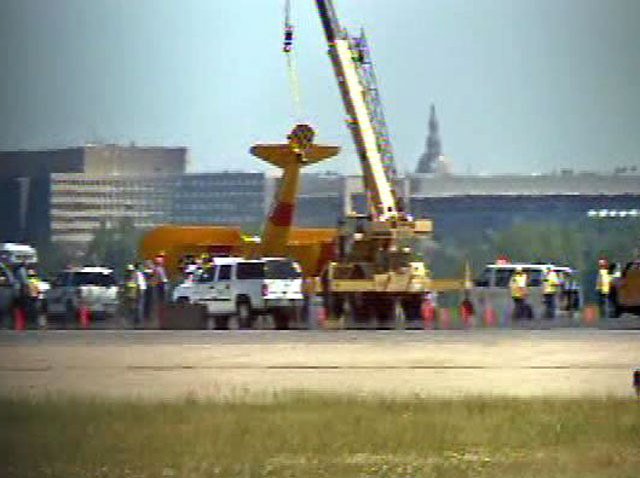 A vintage bi-plane carrying a Washington Post reporter flipped over Tuesday morning and shut down the main runway at Reagan National Airport.
Gabriela Romero of the Metropolitan Washington Airports Authority said the accident occurred around 10:20 a.m. Tuesday.
The Washington Post reported that the newspaper's transportation writer, Ashley Halsey III, was the passenger in the vintage Stearman aircraft and neither Halsey nor the pilot were injured.
Romero said no commercial planes were involved. The runway was shut down while a crane was called in to upright the plane.
A group of eight vintage Stearman planes took off from Manassas Regional Airport at about 9:30 a.m. as part of a publicity appearance at Reagan National to introduce the first-ever 15/70 3D IMAX aviation documentary, "Legends of Flight," which will debut at the Smithsonian National Air & Space Museum's Lockheed Martin IMAX Theatre.
The planes flew at an assigned altitude of about 1,000 feet. The planes were to be divided into two formations of four aircraft each. The aircraft were to depart from Reagan after 3:30 p.m.
The Washington Post reporter was shooting video as the plane came in for its landing, and was able to record the entire crash. Watch the video below:
FlightBlogger also recorded video of the incident. Watch that video below:
Copyright AP - Associated Press