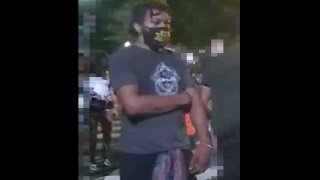 D.C. police released a video Tuesday night that shows a suspect wanted for assaulting an officer during protests early Friday morning.
The suspect went up to a Metropolitan Police Department officer about 12:30 a.m. as they were making an arrest near the intersection of 15th Street and Pennsylvania Avenue NW and assaulted the officer before running off, police said.
The officer was treated at a local hospital for non-life threatening injuries.
Police also released photos of a suspect who they say vandalized property in the 900 block of Pennsylvania Ave. NW during the Commitment March on Friday.
Anyone who has any information about either suspect can call police at 202-727-9099 or text 50411.