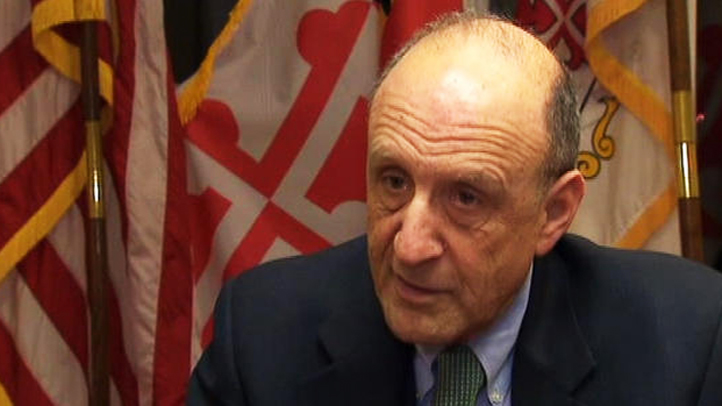 Anne Arundel County Executive John Leopold was found guilty of misconduct for using executive protection officers for political and campaign activities.

Judge Dennis Sweeney also found Leopold guilty of misconduct in office for requiring a female aide and a police officer to empty his catheter bag.
Both counts are misdemeanors.
"Humbled by the decision," Leopold said.
The judge acquitted Leopold of spending $10,000 in overtime pay to use members of his security detail for his benefit and of using some of that pay to conceal a personal relationship with a woman.

Other charges, including one misconduct in office charge and one theft charge, were dismissed during the trial.
Court is in recess. Sweeney is expected to return Tuesday to discuss possible punishment for Leopold.

Prosecutors contended Leopold engaged in a cumulative pattern of abusing his powers for personal gain by using county employees to help him politically and to facilitate sexual encounters.
Leopold's former scheduler described having to drain his catheter bag into a coffee can several times a day, until she saw him bend down to tie his shoelaces and realized he could have been doing it himself. Several former protection officers said that Leopold had them work overtime to put up campaign posters and to keep one girlfriend from finding out about another while he was hospitalized in 2010.

One former member of the detail alleged Leopold requested he compile dossiers on certain critics and potential rivals. Carl Snowden is suing Leopold in a separate case for keeping a file on him.

"This case shows that no man is above the law," he said Tuesday. "What the courts have reaffirmed is that something has been going on for the last 40 years, which is that when public officials, elected officials, engage in using police officers for political purposes, it is not only wrong, it's criminal."

Prosecutors said one of the alleged incidents alone might not be considered a crime, but the "cumulative pattern" added up to an abuse of authority.

Leopold's attorney, Robert Bonsib, spent less time disputing what happened and more arguing how fuzzy the line can be between what is criminal and what is unsavory.

During the trial, there were times when defense attorneys tried to cast the relationship between Leopold and his security detail as more of "a locker-room exchange" than an exercise in subjugation. One protection officer, Cpl. Mark Walker, admitted under cross-examination that he had shown Leopold an inappropriate photo of a woman Walker was having an affair with. But the officer said they were never buddies.

However, Sweeney found that Leopold's use of county police protection as lookouts while he had sex in parking lots did not constitute criminal conduct in office. Two officers told almost identical stories about how they would drive to a bowling alley parking lot, check parked cars to make sure they were empty, then let Leopold out and wait for him to return from trysts in his girlfriend's car. Sometimes, they said, Leopold would tell them how great the sex was.
"I would have liked all four counts, but I feel like this was a vindication for the citizens, the taxpayers of Anne Arundel County," said Joan Harris, one of two women suing Leopold of sexual harrassment. "I think Mr. Leopold should resign immediately."

Leopold, a 69-year-old Republican, is in his second term as county executive. He could be removed from office.
"Emergency meeting is called for tomorrow at three o'clock, and that will be simply a quick meeting to introduce a bill that will be heard and voted on on Monday evening at our normal, regular legislative meeting to remove the county executive," Anne Arundel County Chairman Jerry Walker said.
It takes five of the seven members of the council to remove the county executive.
"I will be voting to remove him," Walker said.
Leopold has spent his entire adult life running for or serving in elected offices. Among his many job titles are state senator (in Hawaii), state delegate (in Maryland and Hawaii), gubernatorial candidate, county executive and, during a brief hiatus from politics, freelance public relations writer.

He had become famous for being a one-man political machine, bankrolling his campaigns with his own money. He rarely hired paid staff.

During campaigns, he put up his own political signs, mailed his own campaign literature and would stand in busy intersections, holding a signature red sign like a human billboard.
Stay with News4 and NBCWashington.com for updates as they become available.

PREVIOUS COVERAGE:

Copyright AP - Associated Press