The Republican Party of Virginia apologized Wednesday for tweets aimed at the Democratic nominee for governor that many viewed as racist.
Lt. Governor Ralph Northam called for the removal of Confederate memorials.
The Republican Party of Virginia sent out two tweets on Wednesday accusing Northam of turning his back on his own family's heritage.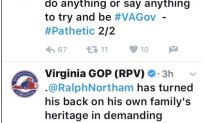 That set off sharp reactions from both Democratic and Republican activists, who believed the RPV was referring to Northam's Virginia ancestors, who were slave holders.
Four hours after the original post, the RPV tweeted an apology reading, "Our previous tweets were interpreted in a way we never intended. We apologize and reiterate our denunciation of racism in all forms."
Local
Washington, D.C., Maryland and Virginia local news, events and information
The party's executive director issued a statement saying the original tweet referred to Northam's great-grandfather, who fought for the Confederacy, not to relatives who had slaves.
"When he wants to tear down monuments to those killed in action and wounded during the war, he is literally talking about a member of his own family," John Finley said.
"It was just inappropriate, first of all, and I'm glad they took it down," Northam said. "There have been some blemishes in my family history, but I tell people all the time my immediate family has been one of public service."

"It's a true shame to to see the party of Lincoln stoop so low," Northam campaign spokeswoman Ofirah Yheskel said.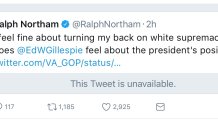 Republican candidate Ed Gillespie's campaign was not involved in the RPV tweet and issued a statement saying the apology was the right thing to do, adding "Though Ed disagrees with the lieutenant governor on the issue of statues, he knows we can disagree on issues like this without devolving into divisive rhetoric."
Gillespie and Northam both blame the violence in Charlottesville Aug. 11 and 12 on white supremacists and neo-Nazis.
"Theirs is a twisted mindset rooted in hating and oppressing certain of us, and my fellow Virginians and fellow conservatives reject that kind of twisted mindset," Gillespie said Saturday.
"The governor and attorney general and I have made it clear we don't welcome these people in and ask them to go home and not come back," Northam told News4.
But the Northam campaign is challenging Gillespie to go farther and denounce President Donald Trump's assertion there was blame on all sides.
"The Northam campaign will continue to remind voters that Ed Gillespie did not say anything in any way critical of President Trump or call out President Trump's name for his comments after those terrible events in Charlottesville," said George Mason University political analyst Mark Rozell.
Rozell said he doesn't think Northam will gain much from the strategy.
"I think if Ed Gillespie continues to state very strongly his own position, people will recognize this guy does not condone what happened," he said.
The candidates differ on Confederate memorials, though. While Northam wants them placed in museums, Gillespie says they should remain in place but be given some historical context. Libertarian Cliff Hyra hasn't taken a position on whether they should stay or go but says locals should decide.
Rozell thinks as Election Day approaches, issue like the economy and education move voters, not candidates' positions on memorials.