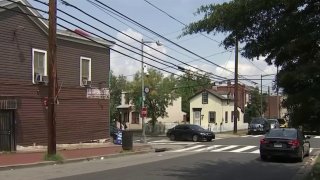 A man who was repeatedly punched by a D.C. police officer during a violent arrest caught on video Sunday initially faced charges for what police say was an illegal gun.
The U.S. Attorney's Office dropped all charges, a D.C. Courts spokesman said Monday night. The case was dismissed, the man was released and he will not have to appear in court again. 
Three Metropolitan Police Department officers had their police powers revoked and were placed on non-contact status after the arrest in the 1500 block of U Street SE. In remarks Monday afternoon, Chief of Police Robert Contee strongly condemned the actions he saw on video circulating online.
"I am embarrassed, disturbed, disheartened and ashamed of what I've seen," the chief said.
We're making it easier for you to find stories that matter with our new newsletter — The 4Front. Sign up here and get news that is important for you to your inbox.
Contee said he would refer the officers to the U.S. Attorney's Office for possible prosecution.
"This is not the way we train our members to get illegal firearms off the streets," he said.
Officers saw the man engage in a "hand-to-hand drug transaction," stopped him and patted him down, Contee said. They felt a bulge in his waistband area and found an illegal gun, the chief said.
Police charged the man with possession of an unregistered firearm, carrying a pistol without a license, unlawful possession of ammunition, assault on an officer while armed and resisting arrest.
Those charges were all dropped by the U.S. Attorney's Office. Officials there declined to comment on why the man will not be prosecuted.
Mayor Muriel Bowser said Tuesday that she saw video of the arrest and supported Contee's comments.
"I do feel like he should have been charged," the mayor said about the gun suspect.
She added, though, that she knows the "reality" of what prosecutors face when they take cases to juries.
"I might as well spend my time on something else," she imagined a prosecutor saying.
"The whole thing is completely frustrating," Bowser continued. "At least we got the gun and we've identified somebody who maybe will take advantage of some help to choose a different path."
The D.C. Police Union said that some have rushed to judgement about a case involving a man with a loaded "ghost gun," and that the officers' actions will be deemed justifiable. 
"It is well known by police officers everywhere that criminals are not afraid to harm police. The MPD officers in the video were doing everything within their legal authority to protect themselves, and the communities they patrol, from an armed, and potentially, violent offender," the union said in a statement.
Some community members asked why people on both sides won't face punishment.
"This community is living in terror. There's an open air drug market. There's numerous incidents of gun violence. What message are we sending if we're releasing people who are caught with guns back into the community the same day?" said Josh Lopez, a community activist and business owner.
A major citywide push to stop gun violence and get illegal guns off streets is underway. Deadly shootings are almost a daily occurrence. Recent victims include a 6-year-old girl and 69-year-old man.
The police chief and mayor said they will continue to go after illegal guns and those who carry them, while also respecting their constitutional rights.