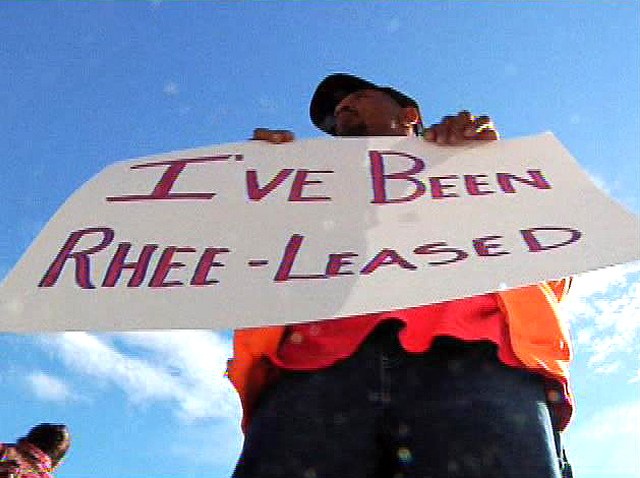 D.C. Schools Chancellor Michelle Rhee's getting an image makeover. It might have been the Dolores Umbridge comment that did it.
A student protesting Rhee's recent reassignment of Principal Patrick Pope from Hardy Middle School compared the schools chancellor to the cruel teacher character at Hogwarts Academy in the "Harry Potter" series. It's not the first time Rhee has been the subject of less-than-stellar comparisons.
On Friday, D.C. Public Schools confirmed that it is negotiating a contract with former White House Communications Director and veteran Democratic media consultant Anita Dunn, reported D.C. Schools Insider.

Officials say Rhee hopes to use Dunn and her firm, Squier Knapp Dunn, to deal with the crush of press attention she receives both locally and nationally, and to assist in rolling out important stories to maximum strategic advantage. Officials would not specify what projects Dunn would work on, but she is expected to help on the unveiling of the long-awaited labor contract between the District and Washington Teachers' Union, which could be finalized in the next few weeks.
"We hope to get her wisdom and advice on how to handle things," Marrianne McMullen, Rhee's Chief of Staff for Office of Family and Public Engagement, told the paper.
In 2007 D.C. Mayor Adrien Fenty chose Rhee to replace the then Superintendent of D.C. Public Schools Clifford Janey as the schools' new chancellor. Last October in a controversial move, Rhee fired hundreds of teachers citing budget distress. Many of the fired teachers, parents and students protested.
Last February, as News 4's Tom Sherwood reported, Rhee told Fast Forward magazine that of the 266 teachers fired she "got rid of teachers who had hit children, who had sex with children."
The comments provoked another firestorm from the teachers who were dismissed as a cloud of suspicion hung over them.
Rhee later clarified her statement in a letter addressed to the D.C. Council, "the examples I gave involved a very small minority of the teachers who were terminated in the budget reduction."