A loyal pit bull who stood guard over her injured owner during a fire now has a new home.
Precious had guarded her unconscious owner after fire broke out early Wednesday at their home in Landover Hills, Maryland. The dog stood guard over her even after fire crews arrived at the home -- but she ended up at an animal shelter with her puppy, Molly, because of Prince George's County's ban on their breed.
On Thursday, Precious and Molly found a new home with their owner's sister, Megan Sanchez, who lives in Montgomery County.
"She just wanted to protect her mommy; that's all," Sanchez said about Precious. "And her house."
Sanchez, who works with animals and has a dog of her own, says she's happy to bring Precious and Molly home, and she'll make sure the family can visit them any time.
"I'm glad they survived," she said. "We're animal people."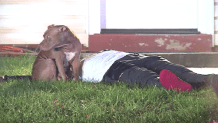 Precious made headlines after her act of bravery Wednesday. In fact, firefighters said they had trouble getting to her owner — who was hurt in the fire and lying unconscious on the front lawn — because the dog was standing over her.
Local
Washington, D.C., Maryland and Virginia local news, events and information
Firefighters tried to call Precious away, but she wouldn't budge and acted aggressively when they approached. They eventually deployed a powder fire extinguisher in her direction, causing Precious to run away and giving them time to get the woman onto a stretcher.
The woman and her father, who was also injured, were taken to an area hospital. Both are expected to be OK.
However, Precious and Molly were taken to a Prince George's County animal shelter. Officials said the dogs weren't in danger of being put down, but the owner wouldn't be able to get them back.
Chief Rodney Taylor of Prince George's County Animal Management said he was glad to learn that the dogs would have a new home with their owner's system.
"That's a great reunion, so we're just excited, especially when you have a tragedy, such as what we saw," Taylor said.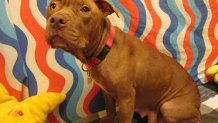 Instead, they said she could try to find family or friends who live outside Prince George's County to take the dogs. If not, the county would have kept them in an animal shelter or placed them with a rescue group.
"It's sad. I love that dog," said the owner's son Wednesday.
He said he didn't think the dogs should have been taken away, but given the situation, he accepted it.
"I wish I could get her back, but right now, we've got bigger fish to fry," he said Wednesday, gazing up at the burned home.
Along with Precious and Molly, another dog and two turtles were removed safely from the home. Animal control officers took all the animals from the scene. The other dog, who is not a pit bull, will be able to rejoin the family.
The cause of the fire is under investigation, but fire officials said it's believed to have started in a bedroom. Authorities said there were no working smoke detectors in the house.