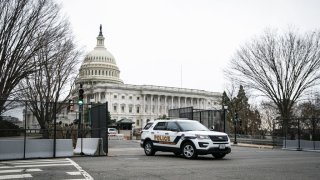 Several Capitol Police officers have been suspended for behavior related to the Capitol riot, according to Acting Chief Yogananda Pittman.
"Several USCP officers have already been suspended pending the outcome of their investigations" into possible violations of department regulations and policies Pittman wrote in a statement released Monday evening.
Pittman also said authorities are "aggressively working to identify and arrest those involved in the destruction of property."
Earlier Monday, Rep. Tim Ryan, D-Ohio, who chairs the House Appropriations Subcommittee, said one officer was suspended for wearing a MAGA hat and another for taking a selfie with people outside the Capitol.
The news comes while the department is still reeling from the aftermath of the Capitol siege on Jan. 6, including the deaths of two officers and the resignation of former Chief Steven Sund.
Ryan also said interim Capitol Police Chief Yogananda Pittman is taking "aggressive action" to see if there was any internal "help" by officers in the Capitol chaos.
Ryan says they don't want an officer working on President-elect Joe Biden's inauguration "who was not doing the job on the Jan. 6th event."