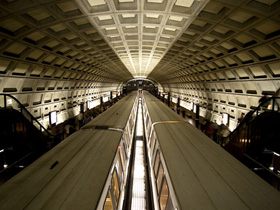 Members of the Tri-State Oversight Committee said they will withhold infrastructure funding if the transit agency doesn't resolve concerns raised by the safety group.
The step gives the group a measure of power that was almost unknown before the fatal 2009 crash on Metro's Red Line
Without the power to withhold funding, the commitee didn't have a way to force Metro to comply with its safety recommendations. The chairman of the committee said the move is important but he hopes the power never has to be used.
Metro's board is scheduled to review the agreement this week, but it doesn't have the power to change the funding component.
Listen to the complete story at wamu.org
Copyright 2010 WAMU 88.5 - American University Radio. All Rights Reserved.
Copyright WAMUo - WAMU