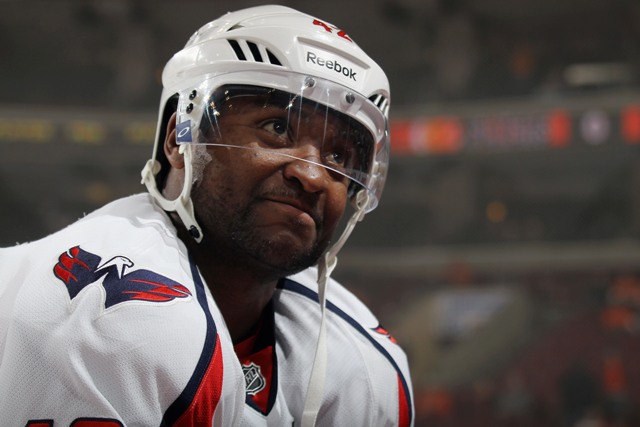 Joel Ward grew up playing hockey in Toronto, but the death of his father when he was 14 years old almost derailed him.

"I was playing at an arena in Toronto and I saw a lot of people crowded around where my parents usually sat," Joel told us. "One of the other parents came at the end of the game and took me to the hospital."

The Ward family found out that Joel's father, Randall, had a blood clot to the brain. A couple of days later he passed.

The death of Randall left a hole in the family and Ward's mother Cecilia, a registered nurse who has since retired, was determined to make sure that Joel and his older brothers continued to play hockey. She worked two jobs to help pay for equipment and registrations, and friends and family pitched in to make sure the Ward boys got to and from practices.

Joel, who admitted that his father's death left him a little bit lost, recognizes now how important that was for him.

"You know, hockey really saved me," he remembers. "I'd go to the rink and it was a whole different world."

Anxious to give back, Joel became a Big Brother through the Big Brother Big Sisters organization while he was in Nashville playing with the Predators. His Little Brother Malik Johnson, now 14, also comes from a single parent household. The connection between the two was immediate.

Joel began mentoring Malik when he was 12. When he started having trouble with bullies in school, Joel donated his time to the schools to talk about bullying and how it affects people.

With such a bond, Joel's move from Nashville to Washington was hard for both of them.

"He's a good kid," Joel said. "It was tough for him when I came to the Caps, but we still keep in touch."

Joel will be in Nashville on Tuesday to play his former team and plans to reunite with Malik in person.

Giving back to the community through the Big Brothers program was a way for Joel to pay forward the support he got from friends and family growing up. But he admits that the death of his father still weighs heavy on his heart sometimes.

"The more I look back on it, these time playing hockey now are pretty hard," he said. "It's been tough because of all of the fathers' trips and stuff like that. But I know he's watching."

Questions, comments or tips? Email Sarah at sarahskogod@gmail.com. You can also follow her on Twitter (@sarahschorno).