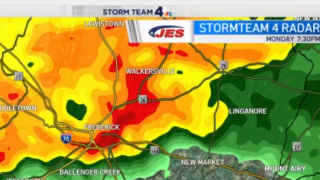 A tornado warning expired for Frederick and Carroll counties in Maryland on Monday after being issued by the National Weather Service.
A flood warning was also in effect for Frederick County in Maryland until 2:45 a.m.
For all severe weather alerts, click here.
Residents had been advised to take cover.
"Move to a basement or an interior room on the lowest floor of a sturdy building. Avoid windows. If you are outdoors, in a mobile home, or in a vehicle, move to the closest substantial shelter and protect yourself from flying debris," the NWS said.
Another tornado warning expired at 7 p.m. for southeastern Washington County in Maryland and central Jefferson County in the panhandle of West Virginia. A severe thunderstorm capable of producing a tornado had been located over Charles Town, West Virginia around 6:26 p.m.
Earlier in the day there was a tornado reported in Northumberland, Virginia around 3 p.m. An observer reported some damage to houses.
This is a developing story. Refresh for updates.