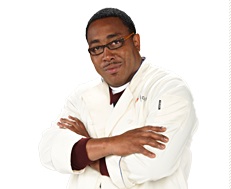 A "Top Chef: Washington D.C." contestant is simmering after his plans for a new Washington-area restaurant went up in smoke.
Timothy Dean, a Washington native who worked under renowned Watergate Hotel chef Jean-Louis Palladin, is suing National Harbor, a retail and restaurant complex in Maryland where he planned to open Timothy Dean Bistro. The lawsuit, filed Tuesday, says National Harbor's developer sabotaged his plans to open what would have been the first black-owned restaurant in the complex.
Dean claims he signed a lease for the restaurant space in 2008 and put more than $1 million into the project, but the developer did not pay $600,000 it had promised for improvements he was making to the space. Without the money, Dean was left "hanging in the balance with a nearly completed restaurant," his lawyer, Jimmy A. Bell, wrote in the complaint. The lawsuit, which asks for almost $9 million in damages, claims the developer ousted him and changed the locks on the property.
A spokeswoman for National Harbor did not immediately return a request for comment.
Dean said Thursday that 80 percent of the restaurant had been finished and he had already hired management and staff. He said he planned to serve American food with French influence. The space included a stage for live entertainment and an open kitchen were patrons could "kind of chat with me where I'm cooking for you."
He said it was all planned before he went on the television show.
He had already sketched out a menu for spring, summer and fall, he said.
"It would have been very sexy, seasonal for sure," he said.
n the summer it would have included fresh ingredients like rockfish with the skin on and heirloom tomatoes, he added.
Dean currently owns a steakhouse in Baltimore called Prime.
The Washington Post first reported the lawsuit in its "The Reliable Source" column on Thursday.
On Wednesday's episode of the Bravo TV series, now in its seventh season, contestants including Dean had to make baby food as well as menu items for Hilton Hotels. On the hotel challenge, Dean and partner Tiffany Derry made a Creole-style crab cake eggs Benedict with asparagus and bacon potato hash in hollandaise sauce. Both made it to the next episode.

Copyright AP - Associated Press