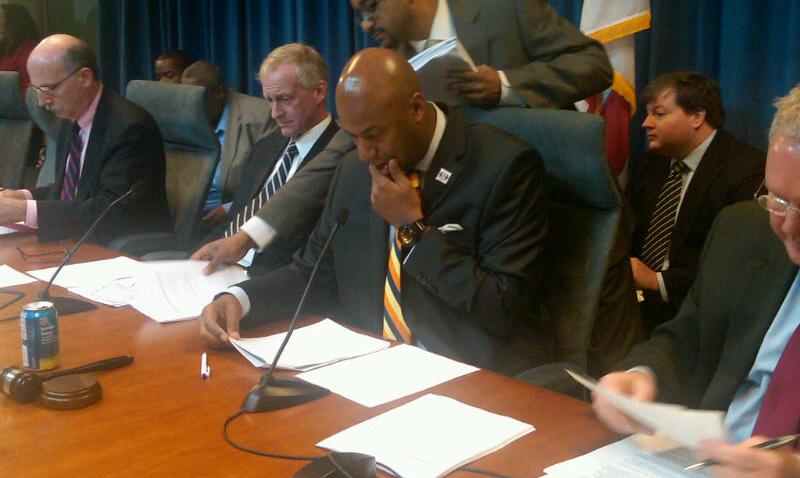 Has a three-member committee come up with a simple redistricting plan to realign ward boundaries, or is the panel's proposal a self-interested mess?

A public hearing Wednesday will give citizens a chance to weigh in on this latest 10-year adjustment.

Ward 6 D.C. Council member Tommy Wells isn't happy.

He was fuming last Thursday over the proposed redistricting, saying it's an outrage that a piece of far Capitol Hill in Ward 6 is being sliced off into Ward 7 while Ward 6 is gaining some economically challenged neighborhoods.

But Wells appeared most upset with Ward 2 Council member Jack Evans, co-chair of the special redistricting committee that drew the proposed lines.

Wells charged that Evans had a conflict of interest, drawing lines that ensured Evans kept the convention center, among other coveted sites, in his home Ward 2. Wells said the other two on the special committee, at-large council members Michael A. Brown and Phil Mendelson, have no particular allegiance to a ward like Evans.

The whole thing "undermines the credibility" of the new plan, Wells contended.

Evans dismissed Wells's comments as "snarky." He said the committee listened to all sorts of competing information before drawing the new lines.

But Evans did acknowledge that he purposely kept the convention center in his ward because he is the council member most identified with getting it built and it falls under the jurisdiction of his Finance and Revenue Committee.

The special redistricting committee voted 3-0 to formally propose its plan.

The meeting ended in a bit of chaos when Ward 8 Council member Marion Barry -- not a redistricting committee member -- wouldn't stop talking, complaining that he had wanted some wealthier areas shifted into mostly poor Ward 8. Committee co-chair Michael Brown fussed back at Barry and ruled him out of order; Mendelson reached over and clicked off Barry's microphone; and co-chair Evans declared the meeting over after a quick vote.

There may be tweaks here and there after the next hearing, but it looks like the train is set for this next 10-year ride. Some disgruntled Ward 4 residents, who wanted to return to Ward 3, won't get their way, either. Five of the eight wards have no or miniscule changes. So that means unless there's a big surprise, the vote to approve redistricting is pretty much a formality now.

• Working on Walmart.

Mayor Vincent Gray was none too subtle in his meeting with Walmart executives who want to open four stores in the city.

Great, says the mayor, but you won't open any if you don't also open one at Skyland Mall in Southeast Washington. Washington Post reporter Jonathan O'Connell reported the demand in an exclusive.

The mayor's office has since suggested it was more of an appeal rather than a demand, but no one misses the fact that Ward 7 is Mayor Gray's home ward and he has made Skyland a priority.

Worried Walmart officials put out a calm, reasonable release in response, saying the company is anxious to open in Washington and, of course, will "expedite our due diligence" to consider Skyland.

Bottom line? Skyland is a ripe site for redevelopment, but it has been mired in legal wrangles for years. There's no certainty that any real development is going to occur there in the immediate future. Why would Walmart want to step into that mess?

Still, look for Walmart to work out some type of compromise to satisfy the mayor.

• "Fully Loaded" success.

We've watched a lot of budget battles in our time, but last week's vote on the $10 billion 2012 city budget was unique.

The mayor proposed a budget earlier this year, and the council has been reviewing it for the past two months. Council Chairman Kwame Brown didn't release his version of the budget until the night before it was up for a vote.

None of that was unusual. What was odd is that Mayor Gray released a letter to the council even before the vote. The letter said Gray supports the council version of the budget. It's the first time we can remember that a mayor had done that.

("Fully Loaded" is the nickname the Washington City Paper has given Brown. It stems from the flap over two "fully loaded" sport utility vehicles that marred the beginning of Brown's term as chairman. Brown promised to repay some costs to the city involved with those SUVs, but the mayor's administration has yet to say what those costs are. Hint to the mayor: We're still waiting.)

• Pools open.

There was lots of hoopla surrounding the opening of the city's outdoor pools for the summer. Every pool will be open six days a week starting June 21; until then, they're open on weekends only. Mayor Gray did the ceremonial opening last Friday, but he declined to jump in himself. That continues a sad abdication of duty.

Mayor Anthony Williams began a cool summer tradition by doing a cannonball into the pools on opening day. Mayor Adrian Fenty declined to follow suit, and now Gray has done the same.

But we'd still like to see a mayoral cannonball. Maybe the city each year should bring back Mayor Williams to perform the spectacle.

• Honoring Kenny Cox.

Kenny Cox first joined the D.C. fire department in 1965, and he's been a Local 36 union leader since 1971. He's served through a lot of change and a lot of union-management headaches.

On Sunday, the firefighters union acknowledged his long service, naming the Bladensburg Road NE headquarters building after him. It's a fine honor and a well-deserved tribute to a man who has lived, breathed and bled for his union and his fire department.