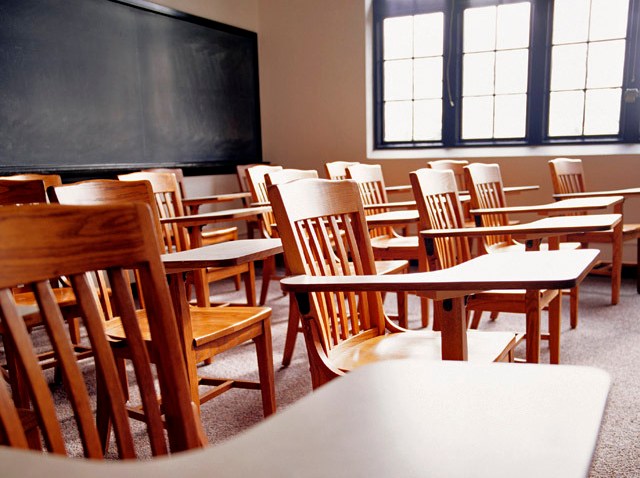 There was a lot of confusion in the city last week over school budget numbers.
And the confusion is not just between the teachers union and the city. Nope. There are a couple of subplots in this mess.
No. 1 is Schools Chancellor Michelle Rhee and her behind-the-scenes battle with George Dines, the school system's chief financial officer. Dines doesn't work for Rhee. He works for the city's chief financial officer, Natwar Gandhi.
School and financial sources said Rhee and Dines have clashed over numbers and interpretations of budget information. That disagreement, in part, led Rhee to claim the $34 million surplus that sparked more than a week of confusion over the school budget.
Gandhi -- whose word is law on these things -- last week stepped in to clear the air and chastised Rhee in a letter sent midweek.
The letter said that there is no $34 million surplus. Gandhi wrote that he was "incredulous" that Rhee had made that assertion. And, to be clear, Gandhi added another section saying, "I want to reiterate my support for George Dines. I have the highest degree of confidence in his capabilities ... ."
That was a clear dig at Rhee.
Rhee responded with her own letter the same day. She said Dines had produced not one but two analyses that indicated the surplus. Rhee wrote, "At no time did [Dines] object, question or qualify the surplus analysis."
So take that, Dr. Gandhi.
Still, Rhee appeared to be losing the internal battle over numbers. On Friday, she told reporters that she wouldn't discuss the budget numbers until Gandhi weighs in with a report everyone can see.
Rhee set off the furor when she casually mentioned to the D.C. Council that she was running a $34 million surplus this year and intended to use that money to help pay for raises in the new contract the city reached with teachers.
The council members were astonished. If she had a surplus, why did she fire 266 teachers last fall?
And by Friday, despite Gandhi's clarification, the Washington Teachers' Union had jumped into the fray, too. It went back to the courts, which had dismissed an earlier suit over the firings. The union said the new information from Rhee means the teachers should be rehired. The court will sort that out. But we suspect Gandhi's assertions will carry the day and no teachers will be rehired.
The No. 2 battle is occurring within the Washington Teachers' Union: Who will prevail in the upcoming contest between President George Parker and his challenger, union General Vice President Nathan Saunders?
Here's a little aside: The Saunders Web page asserts, "We Can Do Better." That's the same language used by Council Chairman Vincent Gray in these early days of his campaign for mayor.
But let's go back to school.
Saunders complains that Parker has been taken in by Rhee and wasn't tough enough in almost three years of contract negotiations. The turmoil over the contract funding is likely benefiting Saunders. But the fact that the new contract includes 20 percent pay increases and a chance to earn extra performance pay favors Parker.
The union vote won't come before Gandhi weighs in again. It's up to his office to certify that the contract is financially viable. If he does, a lot of noise and squabbling will fade away as the teachers start calculating the figures in their retroactive paychecks -- which could be as high as $10,000 for some.
The Gandhi report is due within the next two weeks.
• Peebles Power
Don Peebles is still weighing whether to run for mayor. He's been doing so since late September.
Peebles appeared on the Kojo Nnamdi "Politics Hour" Friday on WAMU 88.5.
As resident analyst, we peppered Peebles -- couldn't wait to say that -- on the big delay.
He said his mother-in-law's illness was one issue. He also has to decide how to structure his large real estate business so it can operate without him if he chooses to run for mayor.
Your grumpy Notebook said it seemed that seven months is plenty of time to get his business affairs in order. What's holding him up? What's the secret campaign plan?
Peebles is an elegant speaker, one who easily defines the public issues facing the District these days. He scoffs at Fenty, saying he doesn't have the intellect to be mayor. He said Council Chairman Vincent Gray is a decent man but doesn't have the dynamism to be an effective mayor.
Peebles says a lot of things well, but he doesn't find the words to clearly say why he's taking so long to decide. And that doesn't seem very mayoral to many.
• Obama, At Last
Well, President Barack Obama finally ended his silence on voting rights. We wrote last week that NBC4 anchor Jim Vance had asked Michelle Obama what was keeping the president from backing voting rights.
Now Obama has issued a statement -- in honor of the city's Emancipation Day holiday -- saying Congress should give D.C. voting rights and strip away some of the controls it maintains over the city.
That was all good, but it came in a written statement issued on a Friday afternoon.
Might have been nice to hear the president actually make the point out loud. Still, most advocates for voting rights were happy he did something.