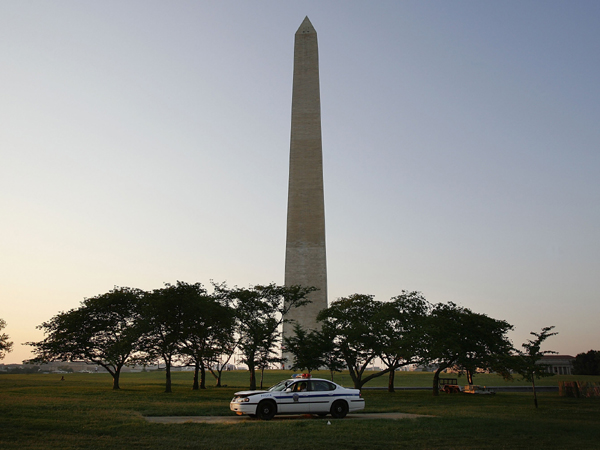 Former U.S. Park Police Chief Teresa Chambers lost her job in 2004 when she said publicly that her force was being stretched too thin.
"Tom, I felt betrayed," she told us in an interview. "To this day I don't know what went wrong. … The hammer fell."
Now, after all these years, she's won an appeal to get her job back and she's anxious to try on her old uniform again.
"They took it back," she said, laughing, during an interview with NBC Washington. "I haven't been able to try it on. And I'm sure -- a few gray hairs, a few extra pounds -- we'll have to see. Maybe I'll have to get back on that bicycle a little more."
Chambers has always had a good sense of humor and strong sense of right and wrong. She said she realizes she's become a symbol for any worker who loses his or her job unfairly.
When the Interior Department under President George W. Bush dismissed her, she didn't give up. And last week, after endless paperwork and testimony, the U.S. Merit Systems Protection Board ruled that Chambers is entitled to get her job back within 20 days and is entitled to more than $800,000 in back pay and interest.
The money is nice, but it's her reputation she wants back. And does she really want to return to the chief's job?
"Absolutely. They're directed to put me back in the position and that's what we seek, that's been the goal," she said. "It's an opportunity to serve the law enforcement profession and to serve our country at the same time. And I look forward to getting back to that work."
As this workweek unfolded, Chambers met late Tuesday afternoon with Interior Department officials. Emerging from the discussion, she said she was pleased with the meeting's professionalism and that everyone is working out the details of her return to the job.
It looks like Chambers will be trying on that uniform again. "It's really just the paperwork at this point," she said.
• Zodiac zapped.
The most fun story of the past week was news that astronomical readings of the heavens have disrupted the astrological basis for Zodiac signs. The shifting of the planets apparently has changed the date alignment. For example, your Notebook was a Leo but now is a Cancer.
There's even a new sign -- Ophiuchus (the Snake Handler) -- that covers Dec. 1 through 18.
It's too complicated to explain. But we did have fun asking people what they thought of the changes.
Not much, it turned out. Many said they'd keep reading the horoscopes of their old signs. We suggest you read both and then pick the one you like. Whether it really means anything anyway is up to you.
We spent the Martin Luther King Jr. holiday on Monday at the Lincoln Memorial.
As we stood near the spot where King delivered his famous "I Have a Dream" speech in 1963, many people walked up to stand where King had stood. We talked with people from all over.
Among them was Thomas Blanton, a 59-year-old labor leader here in the District. He was there with a grandchild. He said he didn't know King personally, but he knew what King was about and what his work wrought.
"It's great that people are learning about King and his contributions, his leadership contributions to the civil rights movement," he said. "But it's more important that we're living under the legacy, we're living those things that he fought for."
In addition to a protest promoting "peace and justice" and the eclectic tourists, we found the 19th Street Band -- a local group -- posing for an album cover near the Lincoln Memorial steps.
"Thought it was kind of historical," said bassist Mike Scoglio. "What better day to take pictures in the nation's capital?" And with that, the trio cued up the bass fiddle, violin and guitar to give us all an impromptu musical treat.
• Eisenhower's warning.
This week marks the 50th anniversary of another important milestone in American history. On Jan. 19, 1961, days before leaving office, President Dwight D. Eisenhower addressed the nation and warned of dangers from the new military-industrial complex.
In his farewell, the president said it was necessary for America to be armed properly for any modern warfare. But he warned, "We must not fail to comprehend its grave implications."
Eisenhower looked directly into the camera, his face projected on the stark black-and-white televisions of the time. "In the councils of government, we must guard against the acquisition of influence, whether sought or unsought, by the military-industrial complex. The potential for the disastrous rise of misplaced power exists and will persist. We must never let the weight of this combination endanger our liberties or democratic processes."
The Notebook would just like to note that Eisenhower's warning remains relevant. And his words would apply even more to the newer "national security complex" that continues to rise rapidly in the aftermath of Sept. 11, 2001, now 10 years later.