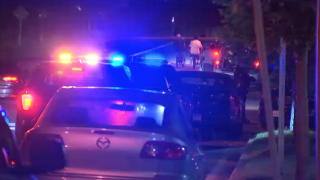 Three Prince George's County Police officers were "ambushed" and shot while responding to a home invasion call, police said. A young father was among the injured, but all three officers are expected to recover.
The police officers were responding to a home invasion call in the 1300 block of Capital View Terrace around 6:35 p.m. Sunday after a woman called 911.
"Within seconds of arriving, they were under fire," Interim Police Chief Hector Velez told reporters at a news conference Sunday night.
Prince George's police returned fire but did not strike any suspects, police said.
Two men are now in custody, but police haven't released information about their identities or motives. The investigation is ongoing.
The officers sustained different degrees of injuries. One was shot in the chest, the second in the back and the third in the foot. As of Sunday night, only one officer was in need of surgery.
Two were saved by the bulletproof vests they were wearing, Velez said.
Local
Washington, D.C., Maryland and Virginia local news, events and information
They were rushed to the Prince George's Hospital Center for treatment.
Velez said the three officers are in good spirits and are thinking about returning to work.
"A chief's worst nightmare is to hear that one of his officers had been shot," Velez said. "My heart sank."
County Executive Angela Alsobrooks said that one officer spoke to her after the shooting.
"He lay there, he's waiting to go into surgery and his concern was not for himself. But he was so shaken and he said, 'I just hope this doesn't hold me back. I love this community and I want to continue in this job," she recounted.
Stay with News4 for more on this developing story.