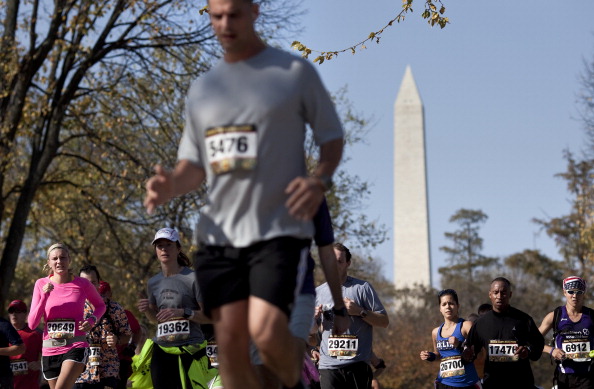 Runners from all 50 states and 32 countries are expected to participate in the Rock 'n' Roll marathon and half marathon Saturday -- with all the road closures you might expect for such an event.

The race starts at 7:30 a.m. at Constitution Avenue and 14th Street and ends at RFK Stadium.

About 6,000 people are expected to run the marathon, and 24,000 people are expected to run the half marathon.

Most road closures will be in effect between 7 a.m. and 2 p.m., with streets opening on a rolling basis as the last runners pass, say event planners.

Major closures include:

• Constitution Avenue NW between 9th and 23rd streets
• Arlington Memorial Bridge from Lincoln Memorial Circle to Memorial Circle
• Rock Creek and Potomac Parkway northbound from Lincoln Memorial Circle to Shoreham Drive NW
• Calvert Street NW from Shoreham Drive NW to Adams Mill Road NW
• Harvard Street NW from Columbia Road NW to 5th Street NW
• N. Capitol Street NW southbound from Bryant Street NW to K Street NW
• H Street NE between 4th and 13th streets NE
• E. Capitol Street NE between 22nd and 19th streets NE
• S. Capitol Street SW/Douglass Bridge southbound from L Street SW to S. Capitol Street SE
• Anacostia Drive SE from Douglass Bridge Access Road to Nicholson Street SE
• 9th Street tunnel NW from Constitution Ave NW to L'Enfant Plaza
• Minnesota Avenue SE from Pennsylvania Avenue to East Capitol Street NE

For a full list of road closures, click here.

Metrorail will open two hours early Saturday, at 5 a.m., to help runners get to the race.

Many Metrobus routes will be affected by road closures for the marathon: 32, 34, 36, 38B, 42, 52, 54, 64, 70, 74, 80, 90, 92, 96, A42, A46, A48, B2, D4, D6, D8, G2, G8, H2, H4, L2, M6, N6, P6, S2, S4, U2, U6, V8, X2 and X8.

Bus passengers are encouraged to transfer to Metrorail at the first available station. Riders can ask drivers for a special transfer ticket that will let them to transfer to the rail system for no additional charge.
Copyright AP - Associated Press