When you shop at T.J. Maxx or Marshalls, you think you've scored a deal on designer clothing you would find in a high-end department store.
But that may not be the case.
Some items sold at the discount stores have a small "TJX" label, naming the parent company of T.J. Maxx and Marshalls. A retail expert told News4 that this is a sign that the items were manufactured specifically for the stores, and have designer labels because of licensing agreements with the designers.
The quality and fit you expect from a designer label may not be what you get from a licensed item, said retail expert Ron Hess, a professor at the College of William & Mary.
"[Shoppers] feel like, 'I'm not really getting the value I thought I was when I bought this,'" he said.
Shoppers should be skeptical of price tags that list the price and a "compare at" price," Hess said. Such comparisons can be misleading because the exact same garment may not be sold anywhere else. After all, it was made specifically for the store.
On its website, TJX says identical items sold in their stores aren't always available for price comparison, so they are compared with "products of similar type, quality and style."
To see if you're actually buying designer clothing at T.J. Maxx or Marshalls, find the inside tag with washing instructions and look for the letters TJX.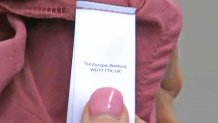 Customers we spoke to outside a T.J. Maxx in Washington, D.C., said they were surprised to hear about the TJX labels.
Local
Washington, D.C., Maryland and Virginia local news, events and information
"That bothers me, especially when people don't know that's what's happening," one man said.
Another woman said she just wanted a bargain, no matter who actually made it.
"Hey, if it looks good, I don't care," she said. "It's better than paying full price."