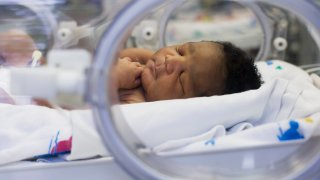 Tens of thousands of babies were born in Virginia in 2022, and data shows that parents in the commonwealth mostly stuck with the classics when choosing names for their newborns.
The Virginia Department of Health's Office of Vital Records revealed Monday the top 15 baby names for boys and girls born in 2022. Noah topped the list of the most popular names for boys, while Charlotte was the most popular for girls.
See below for the full list, which includes many traditional names that have come back into popularity in recent years.
Top 15 Boy Names
Noah
James
Liam
William
Henry
Theodore
Oliver
Elijah
Levi
Benjamin
Owen
John
Jack
Asher
Lucas
Top 15 Girl Names
Charlotte
Olivia
Ava
Amelia
Emma
Harper
Evelyn
Eleanor
Sophia
Elizabeth
Lilly
Abigail
Riley
Nora
Chloe
Further data revealed the top names for different ethnic groups.
Local
Washington, D.C., Maryland and Virginia local news, events and information
Noah, Muhammad, Liam, Kai and Henry were the top five names for Asian baby boys, and Sophia, Chloe, Olivia, Mia and Charlotte were the top names for Asian girls, according to the records office.
For Black babies born in Virginia in 2022, Noah and Ava were the most popular names. Elijah, Josiah, Amir and Micah rounded out the top five boy names, while Naomi, Nova, Zuri and Leilani fill out the top five for girls. 
Liam and Mia were the top names for Hispanic boys and girls. Mateo, Dylan, Noah and Lucas fill out the top five list for Hispanic boys' names, while Camila, Isabella, Emma, and Genesis complete the top five list for girls' names. 
William and Charlotte were the top names for White babies born in 2022, followed by Henry, James, Theodore and Oliver for boys and Olivia, Amelia, Harper and Emma for girls.
The Office of Vital Records also revealed some interesting stats about births in 2022, including:
There were nearly 9,000 babies delivered in Virginia in August, more than any other month during the year.
Aug. 17 was the date on which the most babies were born, with 359 births that day.
Fridays were the busiest day of the week in Virginia delivery rooms. Nearly 14,430 babies were born on a Friday in 2022.
Sundays were the slowest days of the week, with only 8,746 births.
There were 1,344 sets of twins born in Virginia in 2022, and 19 sets of triplets born.