D.C. police, the FBI and other law enforcement agencies are sorting through a mass of images from the Capitol riot, hoping to track down suspects wanted for unlawful entry, stolen property and other offenses.
Already, internet sleuths are taking it upon themselves to seek out the identities of those listed as suspects by law enforcement. See the grid below to see which suspects are wanted and which have already been identified and charged.
These individuals are wanted by D.C. police and the FBI for unlawful entry, stolen property and other charges. Click on a photo for more information.
Credit: Nelson Hsu/NBC, Anisa Holmes/NBC Washington
A rabbi from the Tampa Bay area named Michael Stepakoff became one of the latest to be arrested for their alleged role in the U.S. Capitol riot earlier in January.
NBC affiliate WFLA-TV reports the United States Department of Justice has filed charges against Michael Stepakoff, who was caught on camera storming the Capitol building on Jan. 6.
Other recent arrests include a group of rioters from the tri-state area, two Florida men and several others from Virginia and Maryland.
The FBI arrested Couy Griffin, a county commissioner in New Mexico, on charges of knowingly entering or remaining in any restricted building or grounds without lawful authority earlier this month. Griffin was taken into custody in the 400 block of North Capitol Street Northwest, the FBI said.
Local
Washington, D.C., Maryland and Virginia local news, events and information
Local New Mexico stations have reported that Griffin plans to return to D.C. for the Inauguration.
An upstate New York man identified as Edward Lang was also taken into custody. The feds allege he jabbed at a police officer with a bat and unlawfully entered the Capitol.
Included in charging documents were a series of photos they say Lang posted to social media, including one in which he claims to be "the leader of Liberty" and says, "Arrest me." There was another in which Lang posted a photo of the insurrection with an arrow pointing at a person and the words, "That's me."
A Texas man identified as Daniel Adams was also arrested. Court filings released Sunday show images of Adams and allege he tussled, "physically engaging" with police on the frontlines and posted on social media about civil war.
News4 learned of another incident in which D.C. Police attempting to protect the Capitol during the riot were assaulted by someone with a lacrosse stick.
A mother and son from Georgia were also arrested this weekend for taking part.
A series of hearings in these cases begins Tuesday morning in D.C. federal court, once it reopens from the holiday weekend.
Cleveland Meredith, a man who traveled from Colorado to D.C. for the Capitol riot, was charged with threatening House Speaker Nancy Pelosi.
Meredith also made threats of violence toward Mayor Muriel Bowser and had the means to carry them out, federal prosecutors say.
Former U.S. Olympic swimmer Klete Keller has also been charged in federal court in connection to the U.S. Capitol riot last week.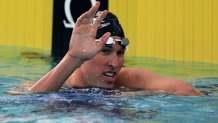 Aaron Mostofsky, the son of a Brooklyn judge, was arrested by the FBI Tuesday morning for his participation in the Capitol Hill riots.
NBC News previously identified Mostofsky as one of the rioters, seen in multiple photos wearing furs and carrying a Capitol Police riot shield.
His father, Shlomo Mostofsky, is a judge of the Kings County Supreme Court in New York, and his brother Nachman is a senior Republican figure in the borough.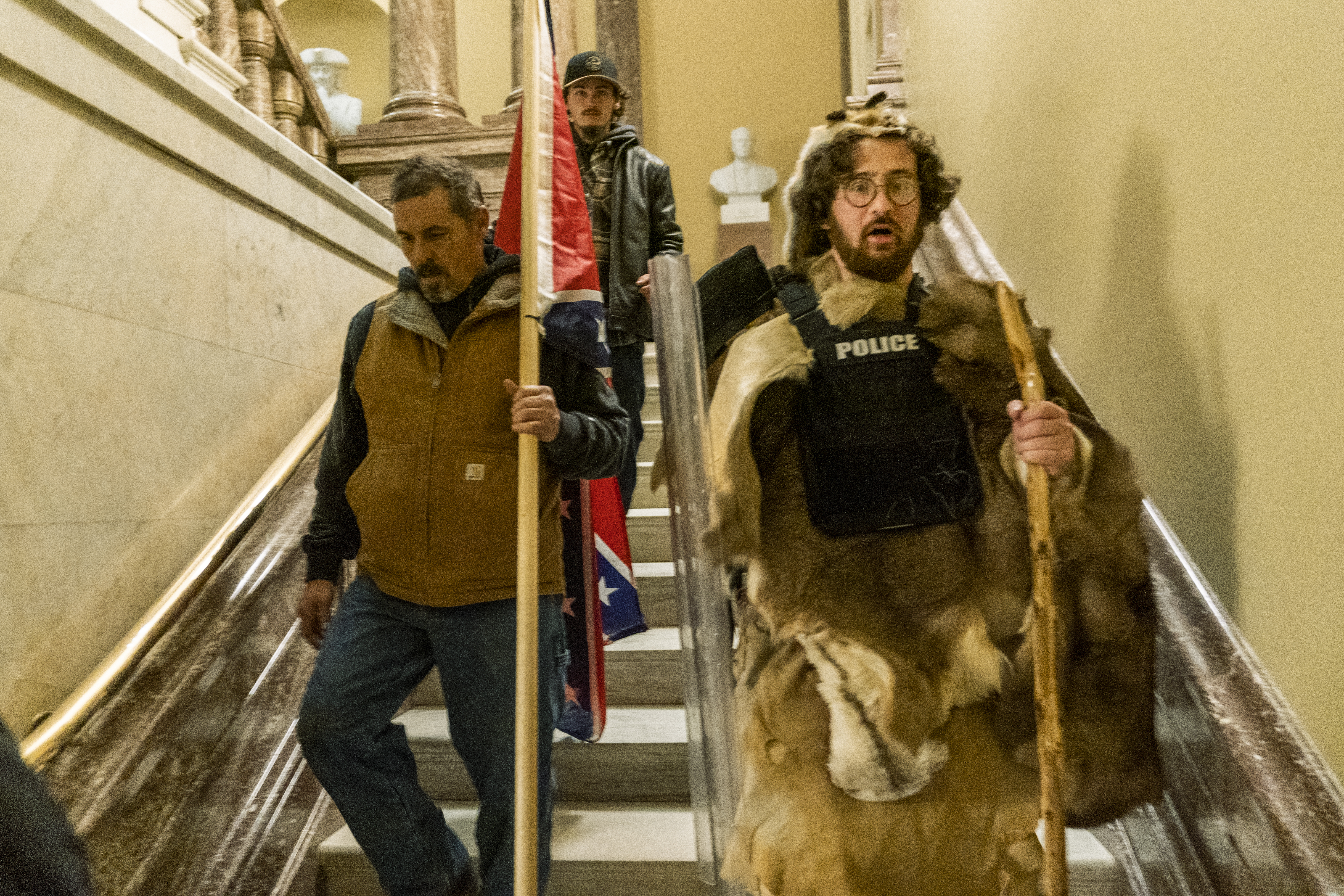 A Florida man caught on camera carrying a lectern through the United States Capitol during Wednesday's riot was arrested, authorities said Saturday.
NBC affiliate WFLA-TV reports 36-year-old Adam Johnson was booked into the Pinellas County Jail around 9 p.m. on Friday on a warrant from the U.S. Marshal's office.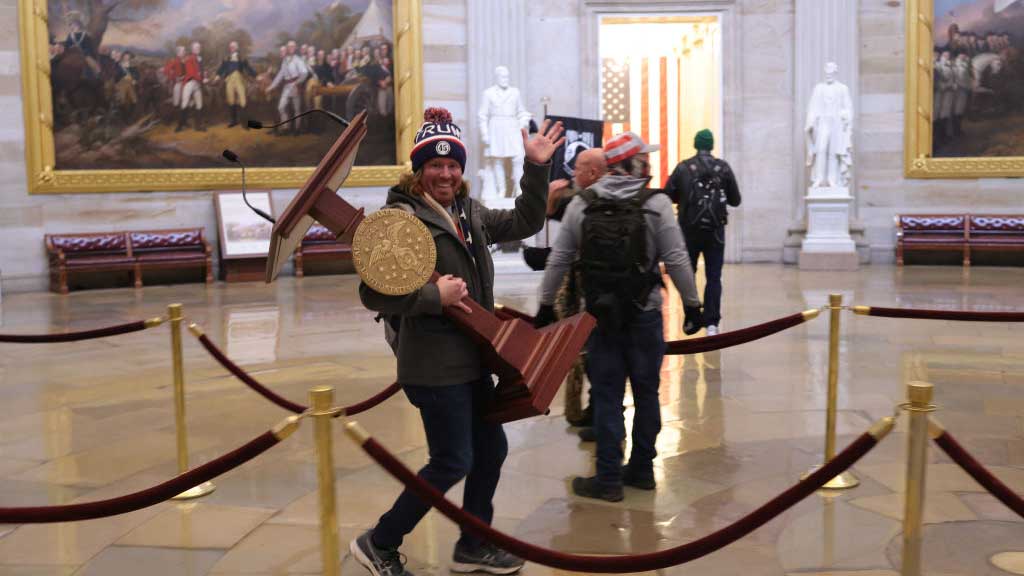 Richard Barnett, who was photographed Wednesday with his feet on House Speaker Nancy Pelosi's desk, was arrested Friday, according to law enforcement officials.
According to NBC News, Jacob Anthony Chansley, also known as Jake Angeli, a longtime QAnon supporter from Arizona, was one of the rioters in the Capitol.
Chansley can be seen in several photos shirtless with bold makeup, wearing a horned helmet and fur and holding a confederate flag inside the Capitol building.
He has been arrested and charged, the U.S. Attorney's Office for the District of Columbia announced Saturday.
A man who wore his Navistar company badge while he stormed the U.S. Capitol was identified by his Maryland employer and fired Thursday. He was also included on law enforcement's wanted lists.
Nicholas Ochs, a Hawaii leader of the Proud Boys, is also under arrest for unlawful entry of the U.S. Capitol, federal officials say. Their charging document cited a photo allegedly showing Ochs smoking inside the Capitol.
Federal officials also announced on Friday a case against Alabama resident Lonnie Coffman who was found to have 11 Molotov cocktails and a cache of firearms inside his pickup truck near the Capitol grounds Wednesday. A photo of Coffman has not been released.
The FBI tweeted that "we are accepting tips and digital media depicting rioting or violence."
D.C. police also tweeted that they are seeking "assistance in identifying persons of interest responsible for unlawful entry offences."
Among the most-sought is a person wanted for questioning about the pipe bombs discovered at the headquarters of the Republican National Committee and the Democratic National Committee in D.C. on Wednesday afternoon, the agency said. The devices were safely disabled.
The FBI is offering a $50,000 reward for information leading to an arrest.
Photos: Pro-Trump Supporters Breach the Capitol Building
Several pictures were released by MPD on Thursday, and MPD Chief Robert Contee said he believes the photos — coupled with a potential reward of $1,000 per suspect — will lead to arrests.
"There's no mistake about some of who these people are," Contee said. "Call into your local FBI office, identify who these individuals are and let's hold them accountable."
The FBI's Washington Field Office has received more than 4,000 tips.
Most of those arrested will face hearings in D.C. federal court and have been released pending their next court hearings.
You can report any tips directly to D.C. police. You can also contact the FBI's toll-free tip line at 1-800-CALL-FBI (1-800-225-5324), or submit tips online at fbi.gov/USCapitol. You may also contact your local FBI office or the nearest American Embassy or Consulate.
The mayhem at the U.S. Capitol led to the deaths of five people, including a Capitol police officer, and more than 80 arrests. More than 50 U.S. Capitol Police and D.C. police officers sustained injuries during the attack on the Capitol, wrote Steven Sund, the Chief of the U.S. Capitol Police, in a statement Thursday.