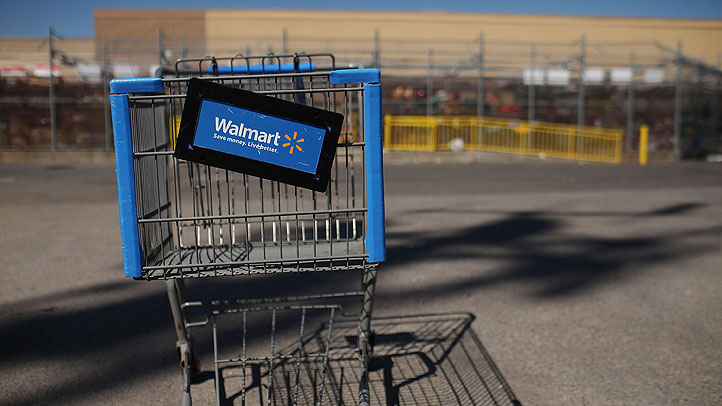 If you've been to most any seashore amusement park, you've seen the copyrighted "Whac-A-Mole" game.

We now have our own version here.

The D.C. Council created Whack-a-Walmart last week when it passed what it terms a "living wage" bill that targets big-box stores of 75,000 square feet and $1 billion in annual revenues (for the parent company).

The thinking is simple: Such firms can afford to pay the wage of $12.50 an hour (counting benefits), and that's that. The bill exempts union shops that negotiate wages.

Walmart, which had been wooed for more than a decade to open in the District, cried foul. Now store officials are bluntly saying that if Mayor Vincent Gray doesn't veto the bill, they'll dump three planned Walmart stores in the city and consider abandoning three others now under construction.

NBC4 reported last week that sources say Gray will veto the measure after he marshals support from business and community leaders appalled at the bill.

But those expecting action this week likely will be disappointed. As of Monday, the council, which voted 8-5 to pass the bill, had not finished the paperwork to send it to the mayor. Once he formally receives it, he has 10 business days to sign or veto it. The council then would have 30 calendar days to meet for an override vote.

Council Chairman Phil Mendelson, who authored the original legislation, said he would discuss an override vote with other members when or if the veto occurs. Mendelson says he thinks the mayor should sign it, but he doesn't seem too hopeful.

Other sources who support the Walmart bill privately admit to News4 that the votes aren't there to override the expected veto. The council would need nine of 13 votes to override Gray. But the five members who voted against the bill appear firmly against it, meaning a win for the mayor.

This is not an original game. We've seen it before in Chicago.
According to a New York Times report in 2006, Chicago aldermen voted 35-14 that summer to impose a similar wage bill of $10 an hour on big-box stores. That was a hefty margin of victory. It would have affected big-box stores that had $1 billion in sales and stores of at least 90,000 square feet.

But then-Mayor Richard M. Daley vetoed it.

"We need jobs," he said. "If it's OK for suburban areas, why not Chicago? You can enjoy the fruits of suburban area living with Walmart and no one objects! Labor people, union people, business people, reporters -- all of you don't object."

Despite the lopsided vote in Chicago for the big-box wage, the council fell three votes short of overriding Daley's veto. The bill never became law, and Walmart now likes to point out that it has built eight stores in Chicago and is about to open its ninth.

The company also says it employs approximately 1,500 people in the city.

Here in Washington, Deputy Mayor for Planning and Economic Development Victor Hoskins also has warned that other national retailers, such as Wegmans and Lowe's, are now skeptical about entering the D.C. market.

While the issue plays out, organized labor knows that it has a tough road to steer if it wants to keep the big-box bill alive. There is a compelling argument that the city spent more than a decade to lure major retailers only to move the goalposts. A lot of union members live in the suburbs and won't depend upon these new stores (and can't vote in city elections).

It could be that, in the end, all sides will win something.

The mayor, with his veto, will look strong even if organized labor is angry. (It's already split over supporting him for re-election, so not a lot will change.)

The council members who back the mayor -- including mayoral candidates Tommy Wells and Muriel Bowser -- will burnish their image as community builders. Ward 2 Council member Jack Evans, who is also running for mayor, has strong support from business already and won't be punished for backing the higher wage.

Organized labor, even if it loses the battle, will have shown some muscle at a time when many believe its influence is waning.

And maybe the citizens in struggling communities will win something, too. Either they'll get a law that insists they be paid higher wages, and the stores will comply, or the stores will pay lower wages and they'll have somewhere, finally, to shop.

Tom Sherwood, a Southwest resident, is a political reporter for News 4.
ALSO SEE: