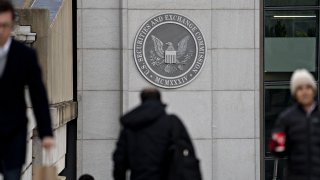 The U.S. Securities and Exchange Commision (SEC) is requiring some Washington, D.C., employees to telework after learning that an employee is being tested for the coronavirus.
The SEC is requiring all employees and contractors who work on the ninth floor of the D.C. headquarters to telework, "out of an abundance of caution." The patient worked on that floor.
All other headquarters personnel are encouraged to telework.
The employee was treated for respiratory symptoms on Monday and "has been informed by a physician that the employee may have the coronavirus," the SEC said in a message to employees Monday night.
The employee was last in the office on March 5 and was asymptomatic during the their time in the office, the SEC said.
The ninth floor and common areas would get a deep clean.
The SEC is the first major federal agency to require personnel to telework as a response to the coronavirus outbreak.