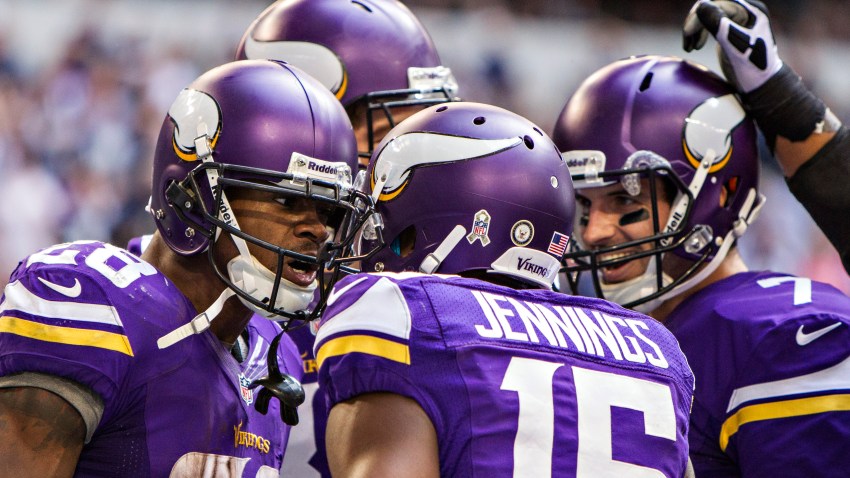 Welcome back to "The Redskinny," a weekly preview of the local professional football team's upcoming game and opponent. Every Thursday, you can find any and all information* about the Redskins' next opponent in this space.
(*Sometimes, it may be some or most information.)
Because the Redskins are playing on Thursday, this week's installment comes a day earlier. Week 10 is here.
Week 10 opponent: Minnesota Vikings (1-7)
Game information: Thursday, Nov. 7 -- Mall of America Field -- 8:25 p.m. -- on NBC4
Last week: The Redskins withstood a late charge from the San Diego Chargers, forcing a field goal after thwarting three chances from the goal line as time expired in regulation before winning 30-24 in overtime. The Vikings led the Dallas Cowboys 23-20 with less than a minute left, but Dwayne Harris' touchdown catch with 35 seconds left lifted the Cowboys to a 27-23 victory.
What's the skinny?: For all of the Redskins' struggles, it certainly could be worse. They could be the Vikings.
Adrian Peterson (711 rushing yards, seven touchdowns), who has not been as dominant this season as he was during his MVP season, has not been able to carry the Vikings on his hulking shoulders. To call Minnesota's quarterback situation a mess would be an understatement. With Christian Ponder, who will start Thursday, Matt Cassel and Josh Freeman (currently concussed), the Vikings are really choosing among the lesser of three evils.
Their defense has been just as bad as the Redskins' (29th in total yards allowed per game, directly ahead of Washington's 30th-ranked defense) and their offensive line has surrendered 20 sacks.
Long story short, this is a game that the Redskins should and need to win.
Statistic of the Week: Robert Griffin III's legs have not created as much this season (and understandably so), but in his only other meeting with the Vikings last October, he ran for a career-high 138 yards, including a 76-yard touchdown run.
What The 'Skins Are Saying:
"The fans want to have something to believe in, and the players want to have something to believe in. And because of the way our division is set up right now, we have something to believe in and we know we can control our own destiny."
- Griffin
Anecdote!: During a conference call with reporters, Griffin shared a story about the Vikings potentially selecting him in the NFL Draft.
"They try to tell you you never know what can happen," Griffin said. "Specifically, I was told by a few people from the outside that if I had fallen to No. 3 they weren't going to leave me on the board. But nothing as far as them wanting to move up or just dying to have me. Just kind of if I was there, they were going to take me."
---
Follow Adam on Twitter @AdamVingan and e-mail your story ideas to adamvingan (at) gmail.com.