What to Know
Nabra Hassanen, a high school sophomore in Northern Virginia, died after a man attacked her with a bat near her mosque.
Fairfax County police believe the murder suspect attacked the teen girl in a "road rage incident," not because of anti-Muslim hate.
The suspect is an El Salvador native living in the U.S. illegally, ICE says.
Police believe the teenage girl who died after a man hit her with a baseball bat as she headed to a mosque in Fairfax County, Virginia, on Sunday was a victim of road rage, not a hate crime.
Nabra Hassanen died after Darwin Martinez Torres, 22, beat her and then dumped the 17-year-old girl's body in a pond, police said. He has been charged with murder.
Hassanen and a group of more than a dozen youths had just finished eating at a McDonald's and were heading back to the All Dulles Area Muslim Society (ADAMS) Center in Sterling for an all-night Ramadan event when they noticed a man in a car following them, the teens told News4.
The driver jumped a curb, got out of the car with a bat and began chasing the teens. He was able to catch Hassanen. He beat her and then took her to a pond nearby in Loudoun County.
After an hourslong search, police found her body in a pond.
"This tragic case appears to be the result of a road rage incident involving the suspect, who was driving and who is now charged with murder, and a group of teenagers who was walking and riding bikes in and along a roadway," police said in a statement Monday afternoon.
"Our investigation at this point in no way indicates the victim was targeted because of her race or religion," the statement continues.
If evidence surfaces that indicates hate did play a role, additional charges could be filed.
Hassanen died of blunt force trauma to the head and neck, a medical examiner determined.
Hassanen's father, Mahmoud Hassanen, wept as he spoke about what he would say to Torres.
Local
Washington, D.C., Maryland and Virginia local news, events and information
"Why you kill my daughter? For what? She didn't do anything to anybody. I raised my kids to love everybody," he said.
A steady stream of mourners visited the family's home on Monday.
Hassanen was the oldest of four siblings and was about to finish her sophomore year at South Lakes High School. On Monday, classmates decorated her locker.
Torres of Sterling was charged with murder, and a judge ordered at a court appearance Monday that he be held without bond.
U.S. Immigration and Customs Enforcement (ICE) filed a detainer against Torres on Monday, meaning he was living in the U.S. illegally. He is originally from El Salvador and had no prior encounters with ICE, a spokeswoman said.
Police say Torres and a boy on a bike argued on Dranesville Road, which has bike lanes. Then, the driver jumped the sidewalk, forcing teens to run into the woods to hide.
"It appears the suspect became so enraged over the traffic dispute it escalated into deadly violence," a Fairfax County police spokeswoman said.
The assaults stretched over Fairfax and Loudoun counties, police said.
Officers started searching for Hassanen about 4 a.m. Sunday in the area of Dranesville Road and Woodson Drive in Herndon, Fairfax County Officer Tawny Wright said at a news conference Sunday evening.
Police searched a wooded area near Dranesville Road and Woodson Drive area in Herndon for several hours. Loudoun County authorities also helped in the investigation, because the area borders the county.
During the search, an officer saw a car driving suspiciously in the area, pulled the driver over and then took him into custody.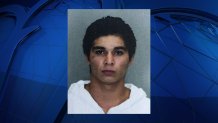 Police found Hassanen's body Sunday afternoon in a pond in Loudoun County about 3 p.m.
Police said the baseball bat was recovered.
The case could be prosecuted in Loudoun County, a Fairfax County police spokeswoman said.
Torres is due in court July 19.
In the meantime, Hassanen's family, friends and community are mourning the shock of her brutal death.
"She's one of a kind. No one will ever take her place," one young friend said.
A vigil will be held at 6:30 p.m. Wednesday at Lake Anne Plaza.