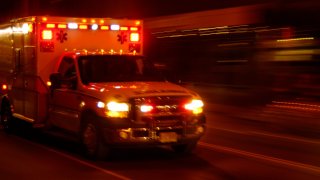 A 15-year-old boy has died two weeks after he was hit by a car while riding a skateboard in Rockville, police said Friday. 
On Nov. 27, the teenager, identified as Alberto Barreto, was hit on Montrose Road at Evelyn Drive, Montgomery County police said. Officers and medics responded at about 10:10 p.m. 
According to a preliminary investigation, Barreto was crossing Montrose Road when he was hit by a 2012 Toyota Prius being driven by a Dumfries resident. 
Our redesigned local news and weather app is live! Download it for iOS or Android — and sign up for alerts.
Barreto was rushed to a hospital with life-threatening injuries. He died on Friday, police said.  
The investigation is ongoing. Anyone with information is asked to contact police.