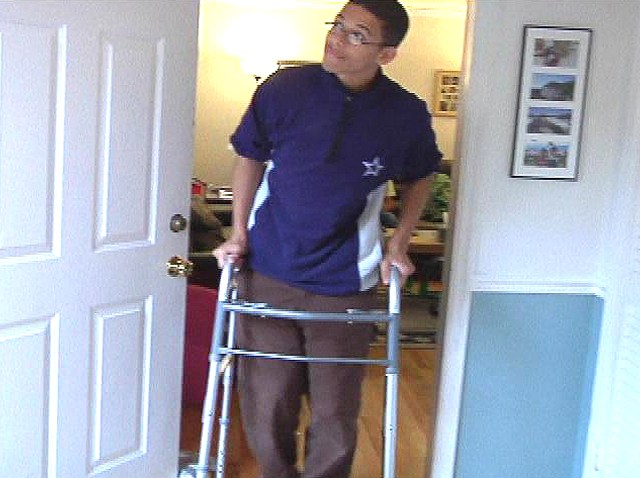 An Alexandria teenager is slowly learning to walk again after he lost the ability possibly because of a swine flu shot.
Jordan McFarland's family believes he contracted a rare neurological disease after receiving the vaccine, but doctors at the Centers for Disease Control believe there is no clear link between the H1N1 vaccine and the 14-year-old's condition.
Jordan has Guillain-Barre syndrome, which causes paralysis. He became ill 24 hours after he got the swine flu and seasonal flu shots on Nov. 5.
"My whole body went cold," he said. "I went and I asked my teacher if I could have the heater, because she has a heater in her classroom, and I used that, and that wasn't warming me up, and soon after that, I got headaches in the same period and I became dizzy."
A high school athlete, Jordan knew something was wrong as he struggled to get to his locker, fighting back spasms along the way.
"Right before I got to my locker, I collapsed," he said. "My left hip experienced an extremely sharp pain, and my left knee gave out and my right knee gave out and I just fell."
Jordan was rushed to the hospital where he was diagnosed with the nerve disorder that affected people during the last mass swine flu vaccinations in the 1970s.
Until last weekend, Jordan had to use a wheelchair to get around.
While CDC officials say there is no conclusive evidence linking Guillain-Barre to the swine flu shots, it is listed as a side effect.
Jordan's father wishes he had been more vigilant.
"If I had read a little bit more, would I still have gone through this?" he said. "You know, what the shot is, what the side effects are. But then again, when you look at the odds of one in 100,000 or one in 1 million, whatever the odds may be, no one ever thinks its going to be them."
Jordan said he will fight through the condition with physical therapy.
"I have people come up and tell me that 'You are one in a million' or 'There's six of us in the United States because of the H1N1,'" he said. "I say, 'Oh great, one more thing to get over. One more mountain to climb.'"
Doctors expect Jordan to make a complete recovery. His goal is to be ready for baseball tryouts at Mount Vernon High School in April.