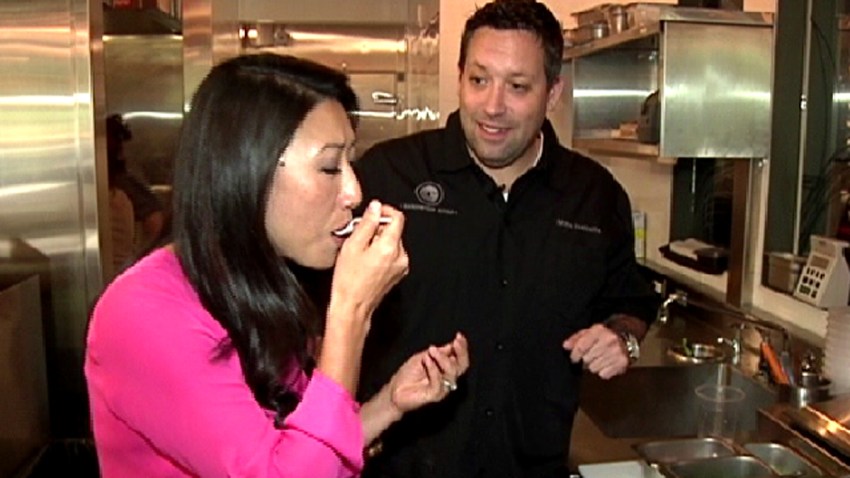 Washington's 14th Street has become a foodie destination, with everything from upscale dining to big-plate comfort food.
For the latest edition of Foodies, News4's Eun Yang takes a look at the thriving street and meets some of the people who have begun -- and fostered -- a food revolution there.
From a newcomer renowned for bread, to a longtime D.C. staple with a 14th street outpost (and gigantic portions) to the restaurant that started it all ... take a nibble of the 14th Street scene.
var nbcLP={};nbcLP.aRandomNumber=Math.floor(Math.random()*10000);nbcLP.currentPageLoc=encodeURIComponent(window.location.href);nbcLP.currentSiteLoc=encodeURIComponent(window.location.host);nbcLP.defaultWidth=652;nbcLP.defaultHeight=367;nbcLP.cmsID="229637971";nbcLP.vidPid="DiKwMEtzxdgO";nbcLP.vidSec="TK";nbcLP.vidSubSec="TK";nbcLP.vidFrame=document.getElementById("nbcLP229637971");nbcLP.vidFrame.style.border="none";nbcLP.vidFrame.width=nbcLP.defaultWidth;nbcLP.vidFrame.height=nbcLP.defaultHeight;nbcLP.vidFrame.scrolling="no";nbcLP.vidFrame.src="http://www.nbcwashington.com/templates/nbc_partner_player?cmsID="+nbcLP.cmsID+"&videoID="+nbcLP.vidPid+"&width="+nbcLP.defaultWidth+"&height="+nbcLP.defaultHeight+"&sec="+nbcLP.vidSec+"&subsec="+nbcLP.vidSubSec+"&turl="+nbcLP.currentSiteLoc+"&ourl="+nbcLP.currentPageLoc+"&rand="+nbcLP.aRandomNumber;

var nbcLP={};nbcLP.aRandomNumber=Math.floor(Math.random()*10000);nbcLP.currentPageLoc=encodeURIComponent(window.location.href);nbcLP.currentSiteLoc=encodeURIComponent(window.location.host);nbcLP.defaultWidth=652;nbcLP.defaultHeight=367;nbcLP.cmsID="229638141";nbcLP.vidPid="sfE3TJLdE1R0";nbcLP.vidSec="TK";nbcLP.vidSubSec="TK";nbcLP.vidFrame=document.getElementById("nbcLP229638141");nbcLP.vidFrame.style.border="none";nbcLP.vidFrame.width=nbcLP.defaultWidth;nbcLP.vidFrame.height=nbcLP.defaultHeight;nbcLP.vidFrame.scrolling="no";nbcLP.vidFrame.src="http://www.nbcwashington.com/templates/nbc_partner_player?cmsID="+nbcLP.cmsID+"&videoID="+nbcLP.vidPid+"&width="+nbcLP.defaultWidth+"&height="+nbcLP.defaultHeight+"&sec="+nbcLP.vidSec+"&subsec="+nbcLP.vidSubSec+"&turl="+nbcLP.currentSiteLoc+"&ourl="+nbcLP.currentPageLoc+"&rand="+nbcLP.aRandomNumber;

var nbcLP={};nbcLP.aRandomNumber=Math.floor(Math.random()*10000);nbcLP.currentPageLoc=encodeURIComponent(window.location.href);nbcLP.currentSiteLoc=encodeURIComponent(window.location.host);nbcLP.defaultWidth=652;nbcLP.defaultHeight=367;nbcLP.cmsID="229638301";nbcLP.vidPid="S7iOzWlsffNm";nbcLP.vidSec="TK";nbcLP.vidSubSec="TK";nbcLP.vidFrame=document.getElementById("nbcLP229638301");nbcLP.vidFrame.style.border="none";nbcLP.vidFrame.width=nbcLP.defaultWidth;nbcLP.vidFrame.height=nbcLP.defaultHeight;nbcLP.vidFrame.scrolling="no";nbcLP.vidFrame.src="http://www.nbcwashington.com/templates/nbc_partner_player?cmsID="+nbcLP.cmsID+"&videoID="+nbcLP.vidPid+"&width="+nbcLP.defaultWidth+"&height="+nbcLP.defaultHeight+"&sec="+nbcLP.vidSec+"&subsec="+nbcLP.vidSubSec+"&turl="+nbcLP.currentSiteLoc+"&ourl="+nbcLP.currentPageLoc+"&rand="+nbcLP.aRandomNumber;

var nbcLP={};nbcLP.aRandomNumber=Math.floor(Math.random()*10000);nbcLP.currentPageLoc=encodeURIComponent(window.location.href);nbcLP.currentSiteLoc=encodeURIComponent(window.location.host);nbcLP.defaultWidth=652;nbcLP.defaultHeight=367;nbcLP.cmsID="229638131";nbcLP.vidPid="E79f6ucBKNFV";nbcLP.vidSec="TK";nbcLP.vidSubSec="TK";nbcLP.vidFrame=document.getElementById("nbcLP229638131");nbcLP.vidFrame.style.border="none";nbcLP.vidFrame.width=nbcLP.defaultWidth;nbcLP.vidFrame.height=nbcLP.defaultHeight;nbcLP.vidFrame.scrolling="no";nbcLP.vidFrame.src="http://www.nbcwashington.com/templates/nbc_partner_player?cmsID="+nbcLP.cmsID+"&videoID="+nbcLP.vidPid+"&width="+nbcLP.defaultWidth+"&height="+nbcLP.defaultHeight+"&sec="+nbcLP.vidSec+"&subsec="+nbcLP.vidSubSec+"&turl="+nbcLP.currentSiteLoc+"&ourl="+nbcLP.currentPageLoc+"&rand="+nbcLP.aRandomNumber;

var nbcLP={};nbcLP.aRandomNumber=Math.floor(Math.random()*10000);nbcLP.currentPageLoc=encodeURIComponent(window.location.href);nbcLP.currentSiteLoc=encodeURIComponent(window.location.host);nbcLP.defaultWidth=652;nbcLP.defaultHeight=367;nbcLP.cmsID="229638551";nbcLP.vidPid="h_Yhal5g71wX";nbcLP.vidSec="TK";nbcLP.vidSubSec="TK";nbcLP.vidFrame=document.getElementById("nbcLP229638551");nbcLP.vidFrame.style.border="none";nbcLP.vidFrame.width=nbcLP.defaultWidth;nbcLP.vidFrame.height=nbcLP.defaultHeight;nbcLP.vidFrame.scrolling="no";nbcLP.vidFrame.src="http://www.nbcwashington.com/templates/nbc_partner_player?cmsID="+nbcLP.cmsID+"&videoID="+nbcLP.vidPid+"&width="+nbcLP.defaultWidth+"&height="+nbcLP.defaultHeight+"&sec="+nbcLP.vidSec+"&subsec="+nbcLP.vidSubSec+"&turl="+nbcLP.currentSiteLoc+"&ourl="+nbcLP.currentPageLoc+"&rand="+nbcLP.aRandomNumber;

var nbcLP={};nbcLP.aRandomNumber=Math.floor(Math.random()*10000);nbcLP.currentPageLoc=encodeURIComponent(window.location.href);nbcLP.currentSiteLoc=encodeURIComponent(window.location.host);nbcLP.defaultWidth=652;nbcLP.defaultHeight=367;nbcLP.cmsID="229638451";nbcLP.vidPid="Jus_ECFOvd8D";nbcLP.vidSec="TK";nbcLP.vidSubSec="TK";nbcLP.vidFrame=document.getElementById("nbcLP229638451");nbcLP.vidFrame.style.border="none";nbcLP.vidFrame.width=nbcLP.defaultWidth;nbcLP.vidFrame.height=nbcLP.defaultHeight;nbcLP.vidFrame.scrolling="no";nbcLP.vidFrame.src="http://www.nbcwashington.com/templates/nbc_partner_player?cmsID="+nbcLP.cmsID+"&videoID="+nbcLP.vidPid+"&width="+nbcLP.defaultWidth+"&height="+nbcLP.defaultHeight+"&sec="+nbcLP.vidSec+"&subsec="+nbcLP.vidSubSec+"&turl="+nbcLP.currentSiteLoc+"&ourl="+nbcLP.currentPageLoc+"&rand="+nbcLP.aRandomNumber;