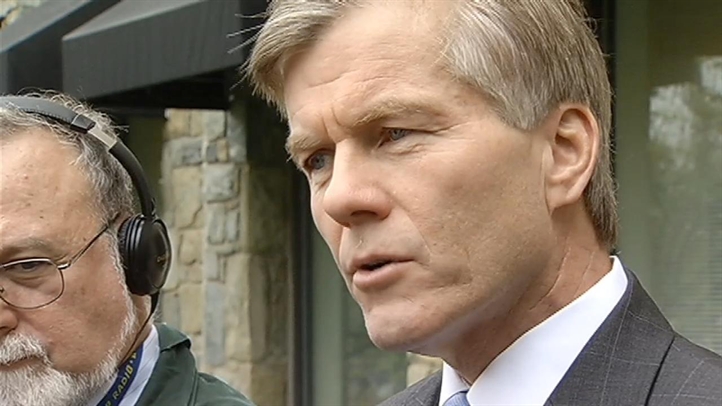 The bill to Virginia taxpayers for the private law firm that took over a review in April of Gov. Bob McDonnell's gifts from a political donor and businessman is up to $53,530 and climbing.

The firm of Eckert Seamans Cherin & Mellott sent two invoices in June to the Republican governor's office for the review led by former Attorney General Anthony Anthony F. Troy, a Democrat. For more than three months, the firm looked into thousands of dollars in unreported gifts that McDonnell's family received from Star Scientific and the Virginia company's chief executive, Jonnie Williams.

Troy's July 18 report concluded that McDonnell broke no state law.

The legal bills cover a combined 225 hours of work by Troy and seven other lawyers from April 26 through May 31. Hourly rates ranging from $170 per hour to the top rate of $250 per hour for Troy and four other attorneys in the firm are modest for high-powered national law firms.

Invoices are still forthcoming for hours that the firm's attorneys worked throughout June and for at least 18 days in July.

Troy and his team took over the case in April after Attorney General Ken Cuccinelli, the Republican candidate for governor, withdrew his office from it, citing conflicts of interest. Cuccinelli also received thousands of dollars worth of personal gifts from Williams or Star Scientific.

The report found that Star received no financial benefit from the state and that neither Williams nor any of its officers were appointed to any state boards or commissions during McDonnell's term.

But the report also disclosed a total of three previously unknown meetings between Williams or Star officers and McDonnell cabinet officials or their representatives as the company touted its marquee product, the anti-inflammatory nutritional supplement Anatabloc, for inclusion in state employees' health benefits packages. The request was denied.

McDonnell's relationship with Williams is the subject of parallel state and federal investigations. Federal authorities are trying to determine whether the troubled company, the subject of a federal securities investigation and shareholder lawsuits, benefited as a result of McDonnell's actions.

The governor did not disclose the gifts, including a $15,000 check from Williams to McDonnell's daughter Cailin to defray catering expenses for her summer 2011 Executive Mansion wedding reception, on his required annual statements of economic interest, noting accurately that Virginia law compels disclosure only by officeholders themselves, not relatives.

An investigation by Richmond Commonwealth's Attorney Mike Herring is intended to determine whether McDonnell violated Virginia's financial disclosure laws, ranked among the nation's weakest. Conviction for violating the state law is only a misdemeanor.

Two weeks ago, Herring concluded a similar investigation into Cuccinelli's dealings with Williams and his company by concluding that the attorney general's belated disclosures of Williams gifts broke no state law.
MORE ON NBCWASHINGTON.COM
Copyright AP - Associated Press