UPDATE: Police have released new photos (see above) of the suspect and said the previously released photos were of the wrong person.
D.C. police are searching for a man who beat another man with a hammer in broad daylight near Logan Circle, just two weeks after someone stabbed and killed a woman who was jogging in the same area.
A victim was walking on 14th Street NW Thursday afternoon and had just crossed Church Street when a man standing near a trashcan spit on him, according to a police report.
A witness told police the victim then asked the suspect something to the effect of, "What the hell do you think you're doing?" and the suspect responded, "You want some of this?"
The suspect then chased after the man and a witness and followed them into the Cork & Fork wine shop on 14th Street NW. The suspect pulled out a metal hammer and started hitting the man in the head multiple times, the report said.
While the man kicked and grabbed at the suspect, the witness grabbed a bottle of wine and struck the suspect over his head two times, breaking the bottle.
The police report said the suspect ran off, heading westbound on Church Street.
Medics took the victim to a hospital and treated him for injuries that were not life-threatening.
Officers were at the scene interviewing witnesses and searching for the suspect. They were also looking at security camera video from nearby businesses, police said.
Local
Washington, D.C., Maryland and Virginia local news, events and information
The attack happened blocks away from P and 11th streets NW, where a suspect fatally stabbed Wendy Martinez while she was jogging on the evening of Sept. 18. After the stabbing, Martinez staggered into a nearby carryout restaurant. She collapsed a short time later.
Martinez, 35, was an avid runner who had recently become engaged.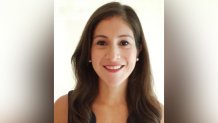 Police arrested and charged Anthony Crawford, 23, in the "unprovoked" stabbing two days later.
Police said surveillance video of the attacker in a distinct shirt and tips from the public helped them track down Crawford of Northwest D.C. to a park near 14th and Girard streets NW. He was charged with first-degree murder while armed.
Police said Crawford had a criminal history, but there was no indication that any of it was violent. Police are looking into whether Crawford had mental health or substance abuse issues.
The violent crime left neighbors stunned because of the area's popularity and perceived safety.
"As a runner, it's pretty terrifying. You'd think running on lit streets, you would be safe, but that's mind-boggling," one woman said.
The crime rate in the area near Logan Circle is relatively low, with few violent crimes reported, D.C. crime statistics show. A number of upscale homes and trendy restaurants are located near the scene of the crime.