A suspect has been arrested after police said he pulled a young woman out of her car after a crash in Fredericksburg, Virginia, and sexually assaulted her over a period of two hours.
Roberto Carlos Flores Sibrian, 26, was arrested Thursday at a construction site in North Carolina, the Stafford County Sheriff's Office said. He has been charged with rape and sexual battery.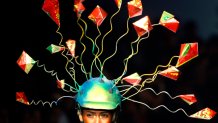 The sheriff's office said they received about 100 leads after the crime, which happened in the early-morning hours of Oct. 31. The woman was driving east on Kings Highway (Route 3) when an SUV hit her car. She was then pulled from the car, dragged into a ditch and sexually assaulted, authorities have said.
The assailant finally left, and the victim was able to call for help.
Flores Sibrian is being detained in Lee County Jail in North Carolina on a $100,000 secured bond and an U.S. Immigration and Customs Enforcement detainer.
Authorities said Flores Sibrian has no fixed address but was living in the Fredericksburg area before the crime.