What to Know
Karon Brown, 11, was in a car with someone when a shouting match erupted among a group of people nearby
He was shot near the intersection of Naylor Road and Alabama Avenue around 7 p.m. Thursday
The shooting happened a little more than a year since another child, 10-year-old Makiyah Wilson, was shot and killed in Northeast D.C.
A man has been arrested days after gunfire erupted in Southeast D.C., killing an 11-year-old boy.
Karon Brown was shot as he was in a car with someone near the intersection of Naylor Road and Alabama Avenue about 7 p.m. Thursday, police said.
Metropolitan Police Chief Peter Newsham said 29-year-old Tony Antoine McCLam was arrested and charged with second-degree murder while armed.
"We cannot wait for another child to fall victim to senseless gun violence," D.C. Mayor Muriel Bowser said during a news conference Saturday night.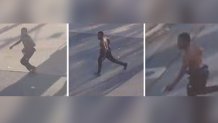 Police said Brown was at a gas station when several adults got into an argument and started shooting. At some point, the 11-year-old made it into a car at the gas station. Someone then fired multiple shots into the car, striking the boy, police said.
Brown's 12-year-old brother was with him at the time, their devastated mother said in brief remarks to News4 on Friday.
"You don't know how much you've taken away from us," she said, addressing the shooter.
Assistant Police Chief Robert J. Contee III said authorities were not sure who was targeted inside the vehicle.
As officers arrived at the scene, they learned Brown had been taken to a fire station in Prince George's County. He was then taken to a hospital, where he died, police said.
Brown was a fifth grader at DC Scholars Stanton Elementary, close to where he was killed. On Friday morning, his teacher posted a photo of him signing a banner with the heading "Stop Gun Violence!!"
Local
Washington, D.C., Maryland and Virginia local news, events and information
A local leader expressed heartbreak and frustration.
"The individuals that live in Ward 8 should be outraged, at that 11-year-old could be shot in broad daylight and some ignorant individual can come out and disregard cameras and human life," Advisory Neighborhood Commissioner Paul Trantham said. "You've got kids walking these streets."
Brown's mother described him as being "funny, loving and kind."
The shooting happened a little more than a year since another child, 10-year-old Makiyah Wilson, was shot and killed in Northeast D.C. on July 16, 2018.
Police have confirmed one shooter in the Brown case, who was seen running away from the scene, shirtless, with an object in his hand. He was with four other people, police said.
MPD is asking for anyone nearby to check their home surveillance cameras for any useful evidence.
"People who would be so brazen and callous without any regard for life should never get close to a gun," Bowser said. "We need everyone's assistance in telling us if a person has an illegal gun ... we need to be able to help them get rid of that gun."
The reward for information leading to arrest increased to $50,000, Bowser announced Friday.
"It's a lot of emotional infighting that's happening," said Clayton Rosenberg of Alliance of Concerned Men. "There's different things out here that trigger people because they're dealing with trauma."
The group sets out to quell the kind of violence that claims other bystanders. It's worked with American University for the past two years to create and perfect conflict resolution manual.
"It's an uphill battle, but we believe the tide will change," Rosenberg said.
Brown's killing brings the number of homicides in D.C. to 88th so far this year, an increase from the same time last year.
Many of those shot were innocent victims under 18. A three-year-old and a 6-year-old were shot and wounded at a bus stop last month. Fifteen-year-old Maurice Scott was killed just steps from his school in May.
"We have too many guns and too many people willing to use them," Bowser said. "As a community we have to be as outraged as we are right now every single day."
Anyone with information on Brown's slaying should call police at 202-727-9099 or text the department's tip line at 50411.