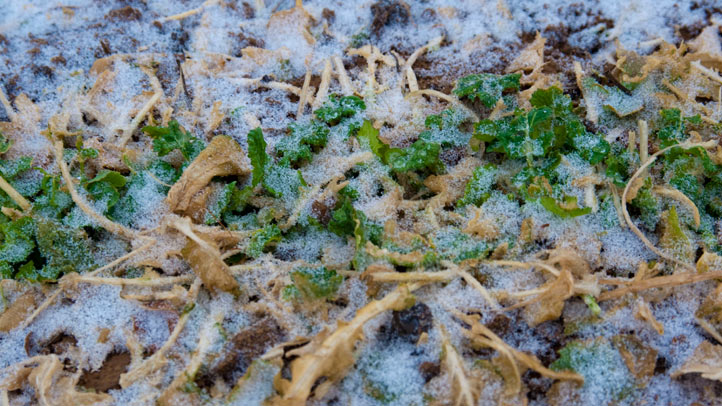 We are so very sorry to be the ones to tell you this.
But it's entirely possible that we could have some snow this weekend.
Washingtonians woke up to a chilly Friday morning in the 30s, and Saturday morning temps should be similar. Overnight, some areas could see a sprinkle or a flurry before partly sunny skies Saturday morning, NBC Washington meteorologist Veronica Johnson said.
But on Sunday, those temps could contribute light snow beginning between 2 a.m. and 4 a.m. The bulk of the snow will fall between 9 a.m. and 2 p.m. People in D.C. and its suburbs can expect 1-2 inches, Johnson said. In Baltimore, a trace amount to an inch is possible. In the high elevations to the west, 3 inches of snow is possible.
As temperatures will reach the mid-40s Saturday, the snow shouldn't stick to roadways. Expect highs in the mid-30s Sunday.
What's this have to do with the cherry blossoms, you might be wondering. Well, the good news, according to NBC Washington meteorologist Tom Kierein, is that the snow won't harm the blossoms no matter how fragile they may seem.
The blossoms may close up slightly during the cold snap, and the peak blooming period could be delayed by an extra day or so, but they'll be all right in the long run.
The Cherry Blossom Festival kicks off this weekend -- and it could be the first one in memory attended by folks in snow boots. In fact, it's extremely rare to have snow and cherry blossoms simultaneously. In April 2007, we had 0.4" of snow, but the blossoms didn't peak until late April that year.
---
Weather on the Web: Get the latest weather from NBCWashington.com anytime, anywhere:
Follow us on Twitter and Facebook. Sign up for our e-mail newsletters and get breaking news delivered right to your mobile phone -- just text DCBREAKING to 622339 to sign up. (Message and data rates may apply.)