A Naval Academy class ring believed stolen decades ago has been returned to the family of its original owner thanks to the effort of a metal detecting hobbyist.
Recently, while running his metal detector over a wooded area of a friend's property in the Lincolnia area of Fairfax County, Virginia, Tom Cowles found a bit of military history.
"I found a U.S. Naval Academy ring from 1928," he said.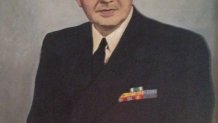 An Internet search led to William Howard, also in Fairfax County. He is the son of the ring's owner, Adm. William Eager Howard, who died in 1979 and is buried at Arlington National Cemetery.
"He said, 'I have something that I think belonged to your father,'" Howard said.
His father wore the ring his entire career, including when he helped research and design the amphibious landing craft the Navy would use to storm the beaches at Normandy, leading to an Allied victory in World War II.
Local
Washington, D.C., Maryland and Virginia local news, events and information
The ring was bequeathed to Howard's now deceased brother, who lived for many years a quarter mile from where the ring was found. Family members believe it was stolen along with other jewelry in a burglary in the 1980s.
The burglar may have dropped it in the woods while fleeing, or possibly discarded it with concerns it could be tied to the crime.