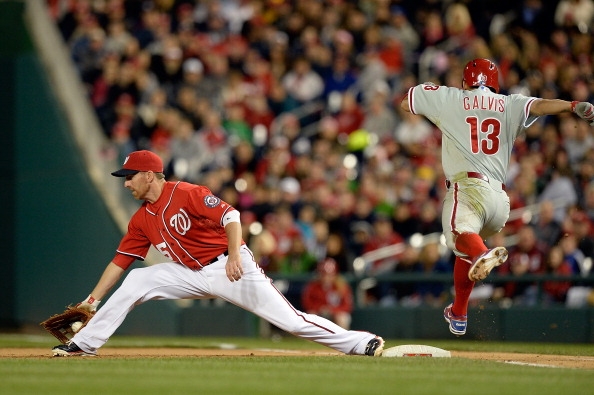 In the top of the eighth inning against the Phillies Saturday evening, Nationals second baseman Steve Lombardozzi did something never before done in the majors (probably): He threw out a runner with his knee.
Okay, he didn't actually throw out Freddy Galvis with his knee, but it looked like he did, so we'll stick with that.
Take a look.
As Galvis laid down a drag bunt, Lombardozzi charged towards the ball, but as he attempted to corral it, it flew out of his glove. The ball, however, ricocheted off his left knee and right to Adam LaRoche at first for the out.
Unfortunately, Lombardozzi's feat was ultimately overshadowed by Delmon Young's RBI single and Domonic Brown's RBI double directly after as the Phillies won by a 5-3 score.
---
Follow Adam on Twitter @AdamVingan and e-mail your story ideas to adamvingan (at) gmail.com.