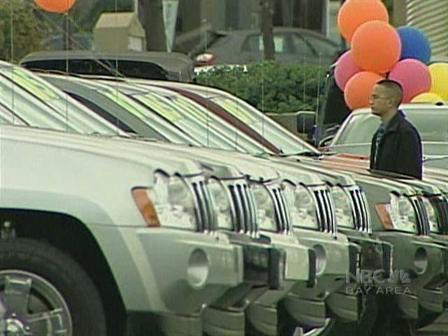 It's like speed dating for car buying, and it's the DARCARS Mega 2-Day Sale
The gates at FedEx Field will open at 10:30 a.m on Sunday morning. However, if you get there early you could do a little "window shopping" from outside the fenced-in area and scope out the car you want.
So how does this crazy car sale work? After you've spotted that special certain "somebody" and the gates open for the day, make a mad dash to the vehicle and hop in the driver seat. If someone is already sitting in "your car" then jump in the passenger seat. If someone is sitting there, then make your way to the back seat. If the car is full, jump in the trunk (OK, maybe just wait near the car).
Then, you sit and wait for the white coats -- the "Price-Slashing Experts" -- to stroll by the car and write the price on the windshield. If you want the car, then honk the horn; jump up and down; do the hokey-pokey and turn yourself a round (or something like that).
From the time the white coats announce the official price, you will have 10 seconds to decide whether you will accept the drastically discounted price or whether you defer to the person in the passenger seat and so on and so forth.
How "drastically discounted" are we talking? Some vehicles will be driven off the lot for $99!
For more information about this great event, check out the DARCARS website.